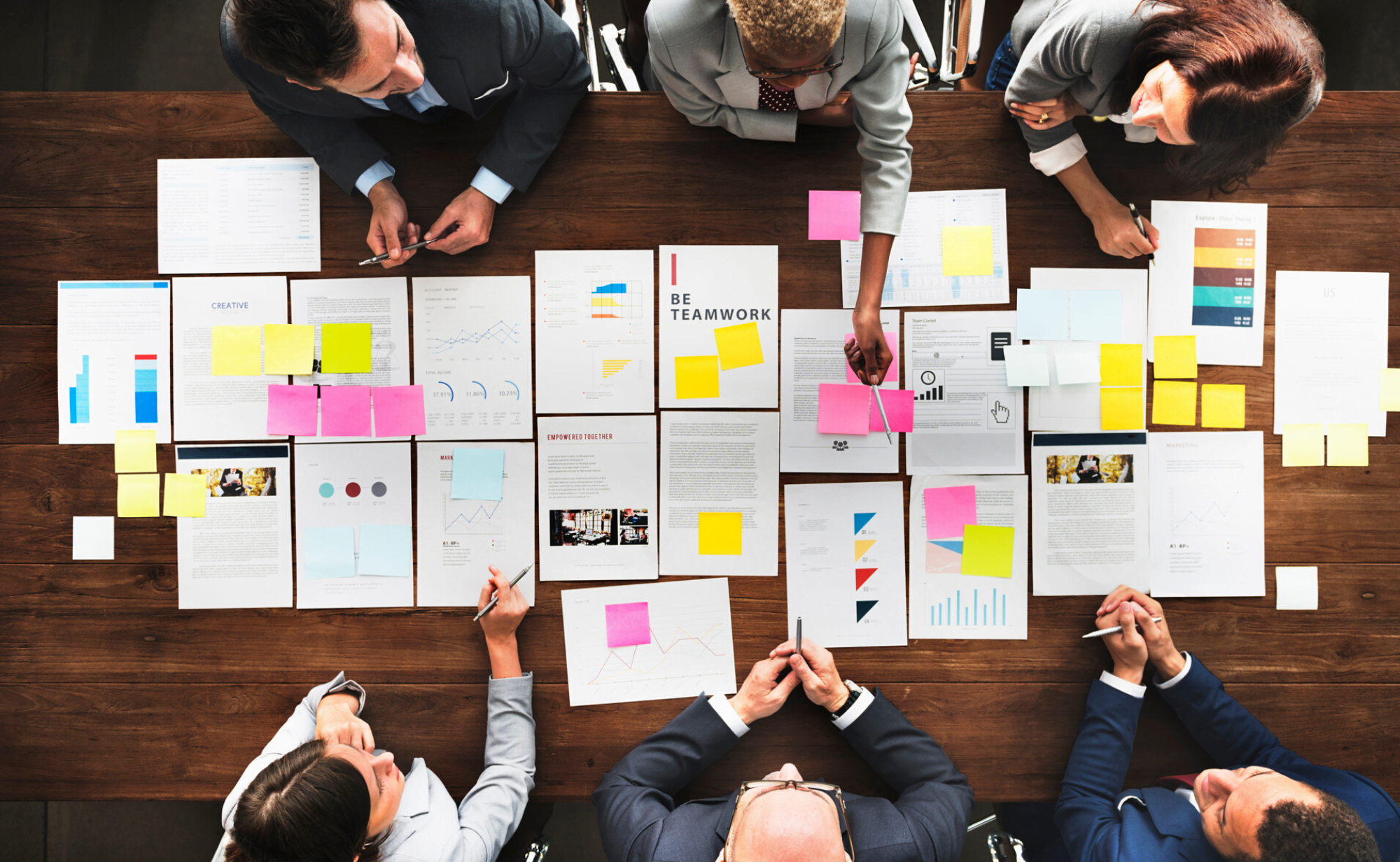 Organizational Development & Effectiveness Services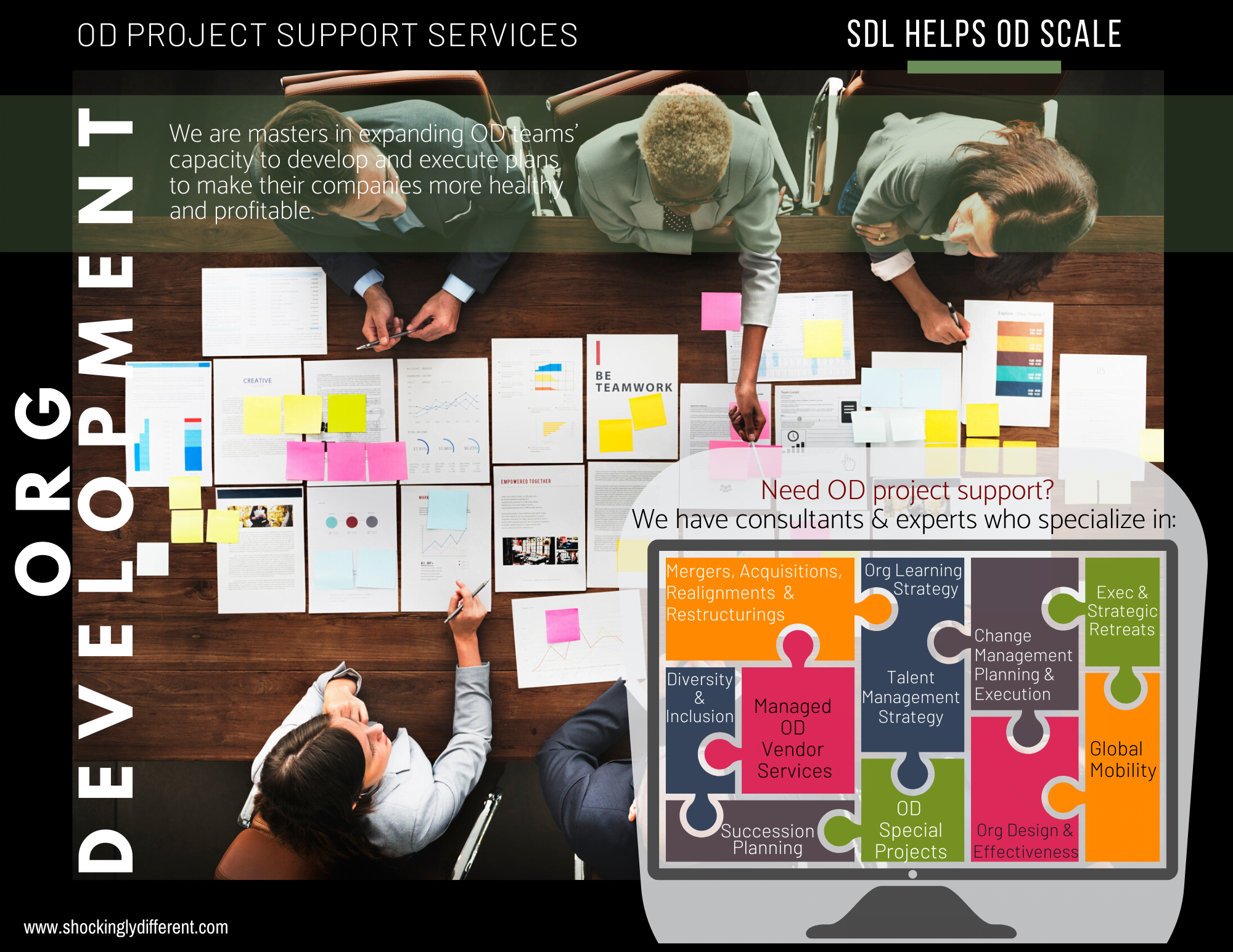 Organizational Development, executed right, helps organizations build their capacity to change and achieve greater effectiveness by developing, improving, and reinforcing internal strategies, structures, and processes.
Our goal is to help your people function better within your organization.  We can help you:
Improve organizational effectiveness while adhering to your culture and values
Maximize your employees' potential and help them amplify their contributions 
Assess what is happening within your organization and then conduct an intervention to try and create positive change
Align human behavior with your organization's strategy, structures, processes and business objectives
Human Process Interventions
Individual - Team - Intergroup - Organization
Structural Interventions
Reengineering - Workforce Analysis - Realignments
HRM Interventions
Talent Management - Wellness - Succession Planning - Diversity
Change Interventions
Transformational - Continuous - Transorganizational
Yes, change is hard, but not impossible. Our OD/OE experts will be your guide through the 7 critical steps of any major initiative:
SCOPING:

  When your organization spots a problem or an opportunity for improvement, we will help you gather the right stakeholders to scope the challenge in detail, agree upon the exact body of work to be done and define what success looks like.

DIAGNOSING:

We will then assess how your org is currently functioning by collecting information or looking at currently available data to try to find the root cause or most urgent priorities.

DATA COLLECTION:

We will collect additional data to validate or disprove assumptions and theories.  Insights from things like existing data from work systems, questionnaires, interviews, observations, and 'fly on the wall' conversations will help inform the next best course of action.

FEEDBACK:

  This is where we share with you our thoughts, perceptions and recommendations, in a way that's understandable and action-driven.

CO-CREATION:

  We work together with you to design the intervention or initiative in a way which allows the organization to absorb it effectively and measure progress against success criteria.

EXECUTION:

  This is where the rubber meets the road.  We help you lead and manage your initiative, with an eye towards gaining support and followership.  Activities are focused on motivating change, creating a vision, developing support, managing the transition and sustaining momentum.

EVALUATION:

  Progress and metrics are examined in order to determine what's going well and where there are opportunities for improvement.  Reinforcing your wins and pivoting if needed, will lead to a better experience by all stakeholders.
Examples of great times to call us is . . . . . .
–  When you are looking to enhance employee engagement
–  When you are working to ensure inclusive practices and a welcoming workplace
–  When experiencing a change in business direction
–  When planning for management and leadership transitions
–  When you are building a new team or reforming your current team
–  When the work requires new skills, knowledge, or behaviors
–  When planning for a merger, acquisition or workforce realignment
–  When embarking on a major change initiative
Let's Get the Conversation Started! Submit Your Initial Inquiry Below.
Frequently Asked Questions
What type of project opportunities do you support?
Answer: 
We support Talent Development, Human Resources, and Org Effectiveness initiatives.
-Project Based
-Interim Coverage, due to occurrences such as personal leaves, restructuring, etc.
-Customized Programs or Solutions
How do you assign your experts to project opportunities?
Answer:
Our consultants are tenured members of our team who've been assigned to numerous previous engagements. Prior to any new project engagement, we first develop a comprehensive understanding of the objectives of our client.  Then we select the top 2-3 experts in our consultant pool, to confirm their interest and true fit. We then present our prospective clients with a curated short-list of our staff who are ready, qualified, and excited to collaborate on your scope of work.
Why should I use SDL for my people-related contract needs?
Answer:
Great question!  We're here to earn your business. Top talent is critical to any business's success and we're proud to be your potential co-collaborators. We deliver execution-ready, vetted, high quality experts that fit within your budget and allow you to focus on best next steps.
What fees does SDL charge?
Answer:
We do not charge any service fees.  Who wants those?  You should only pay a fair amount for the work we provide. We function similar to most company vendors who partner with organizations. When you meet with us, we will jointly discuss your project budget and SDL will send you a proposal for the scope of work. All payments are processed through SDL and are equal to the agreed upon project cost. We pay our consultants directly.
How do I pay SDL?
Answer:
Once a contract is agreed upon and signed by all parties, you select your desired form of payment. A purchase order may be opened or payments may be securely made to SDL via check or credit card.
Note:
for most contracts, a small deposit is required to start all contracted projects.
Does all talent work remotely?
Answer:
It's your call. When a company provides us with their talent needs, they can specify if the work is primarily in office, remote or a combination of the two.
Am I able to have the talent sign a Non-Disclosure Agreement before getting started on my project or assignment?
Answer:
You better believe it!  They have already signed one with SDL, but we can have them sign your organization's as well.
What geographies do you serve?
Answer:
We are a global firm who support clients in all geographies.
I am a consultant who would like to work for SDL. How can I join the team?
Answer:
We would be happy to review your credentials, but please know that we are not a temporary placement agency who accepts resumes from thousands of interested parties.
We are a contracting firm whose niche specialty is in supporting HR functions like Learning & Development, Org Development/Effectiveness, and general Human Resources.
SDL's differentiating value to our clients is in offering skilled, contract talent who have a proven work history with SDL.  If you would like to learn more about how to be considered for our expert team, please click here.
We Also Offer Employer of Record Services

"Employer of Record" services, also called Contractor Payrolling, is considered an essential element of many organizations' talent strategy.
When you partner with an Employer of Record, you outsource the administration and payment of contract labor to us, which allows you to save both time and money by collaborating with only 1 vendor partner.
We handle all payments, paperwork, tax forms, background checks, insurance, drug screenings, on-boarding/off-boarding, and contractor relations issues. These services are ideal for:
Contractor/1099 Management
Short-term or Special Projects
Interim or Probationary Hiring
On-Call Employees
Internal Head Count Restrictions
Interested in exploring whether these services may be ideal for your company?
Let's schedule a time to chat.
Industries Served
Automotive
Banking and Finance
Consumer Goods
Energy
Government
Healthcare
Insurance
Leisure
Manufacturing
Media
NonProfit
Pharmaceuticals
Professional Services
Retail
Start-ups
Technology
Telecommunications
Transportation
Venture Capital/Private Equity
#AboutSDL
Shockingly Different Leadership is a human capital professional services consultancy that provides organizations access to the best consulting expertise in the areas of Talent Development, Organizational Development, and Human Resources – on an on-demand, project, or contract basis.
#WhereToFindUs
MAILING
4480-H South Cobb Drive
PMB 219
Smyrna, GA 30080
PHYSICAL
2121 NewMarket Parkway
Ste. 108
Marietta, GA 30067
#ContactOptions
Customer Service Email:
service@shockinglydifferent.com
Call or Text:
770-384-1103
#Office Hours
MON-FRI
8:30 AM – 6:30 PM
Weekends By Appointment