The Leading at the Top of Your Game® Leadership Development Experience
 The World's #1 Education Program on
Leadership Execution & Leadership Branding!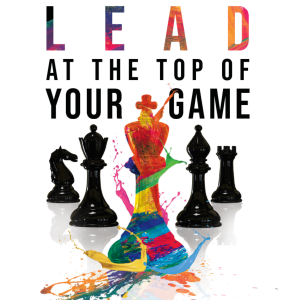 The Book
Karan Ferrell-Rhodes researched over 10,000 global high-potential leaders and organizations, to pinpoint how they rose to the top of their game in their profession or industry.  In her book, she shares the lessons learned from her research – the top seven leadership execution tactics mastered by the world's most highest achieving leaders.
The 7 Tactics
Successful leaders must tranform into execution wizards, who are able to respond in the moment to frequently changing workplace and industry dynamics. Get a deep dive into better understanding the 7 leadership execution tactics featured in Karan's research study.  
The Assessment
The research-based Leadership Tactics Diagnostic is designed to help learners better understand the depth of their knowledge of the seven leadership tactics that provide the most differentiating value and impact while leading others during the execution of leadership projects and initiatives.
The Workshop-For Corporations
A skill-building expeience which provides a debrief of the assessment and develops learners' acumen in the seven leadership execution tactics mastered by the world's most successful, impactful leaders.
The Accelerator-For Corporations
A unique, dynamic, real-world leadership lab accelerator that proves its ROI by converting leadership potential into observed leadership-in-action!  During this highly-rated, structured experience, learners work on a self- or organizational-generated idea which has the potential to produce a positive impact on their job or within the company.
The Workshop-For Individuals
Are you an individual interested in . . . 
increasing your leadership skills?
accelerated career advancement?
building a stronger leadership presence?
moving into a more senior role?
Reduce your frustion by gaining confidence which direction you should take, increasing your leadership acumen and positioning yourself to decision-makers.
The Leader Network
Way past needing Leadership 101?  Consider joining NOTABLE, a  private network designed to support high-achieving, advanced-level leaders who are not yet in the C-Suite (Director/GM+); those desiring to sharpen their leadership acumen, increase their network of strategic supporters and expand their capability for roles of broader scope and responsibility.
The Speaker
Book Karan For Your Next Event!  Karan is a leadership speaker whose speaking engagements are one-of-a-kind experiences that give people a rock-solid foundation to explore how their differentiating strengths shine in today's new world of work.  Learn more about her keynote and breakout session which supports this signature leadership program.
The Podcast
A podcast which celebrates the ingenuity, resilience and execution excellence of firebrand leaders who are "bringing their A+ game" to do big things in their profession or industry.
Schedule a free inquiry meeting
See if our program is ideal for you or your team.
#AboutSDL
Shockingly Different Leadership is a human capital professional services consultancy that provides organizations access to the best consulting expertise in the areas of Talent Development, Organizational Development, and Human Resources – on an on-demand, project, or contract basis.
#WhereToFindUs
MAILING
4480-H South Cobb Drive
PMB 219
Smyrna, GA 30080
PHYSICAL
2121 NewMarket Parkway
Ste. 108
Marietta, GA 30067
#ContactOptions
Customer Service Email:
service@shockinglydifferent.com
Call or Text:
770-384-1103
#Office Hours
MON-FRI
8:30 AM – 6:30 PM
Weekends By Appointment