Helping individuals become better at leading teams and executing major leadership initiatives
Inside every individual lies powerful ideas and the capability to become a stronger leader.
Eager to pull out those ideas from your team and bring innovative thinking and results into reality?  If so, then The MicroLeadership Challenge is an ideal solution to add to your leadership development programs.
The MicroLeadership Challenge is a component of the leadership development experience based of the book, "Lead at the Top of Your Game" and the leadership assessment, The Leadership Tactics Diagnostic.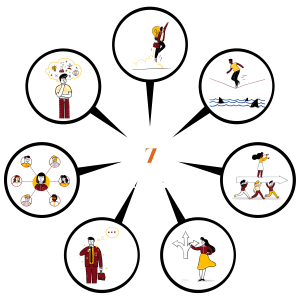 LEARN MORE ABOUT THE 7 LEADERSHIP TACTICS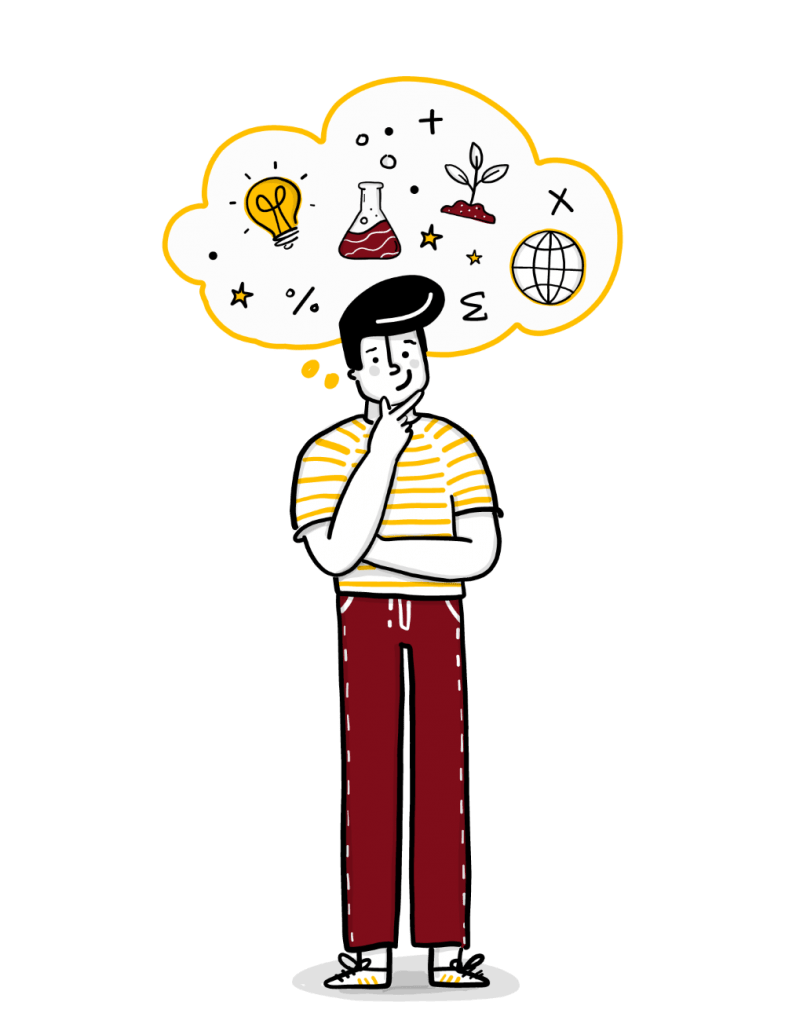 INTELLECTUAL HORSEPOWER
"Leverage your sweet
spot"
The ability to use your areas of expertise to "peek around corners" in order to spot trends, connect the dots, and identify new areas of opportunity that others miss.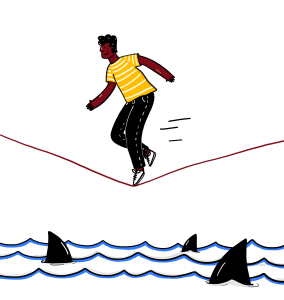 COURAGEOUS AGILITY
"The unwritten rules are the toughest to read"
The ability to have the fortitude to take calculated risks to stand up for what you believe and do the right thing, even when the consequences and/or future is unclear.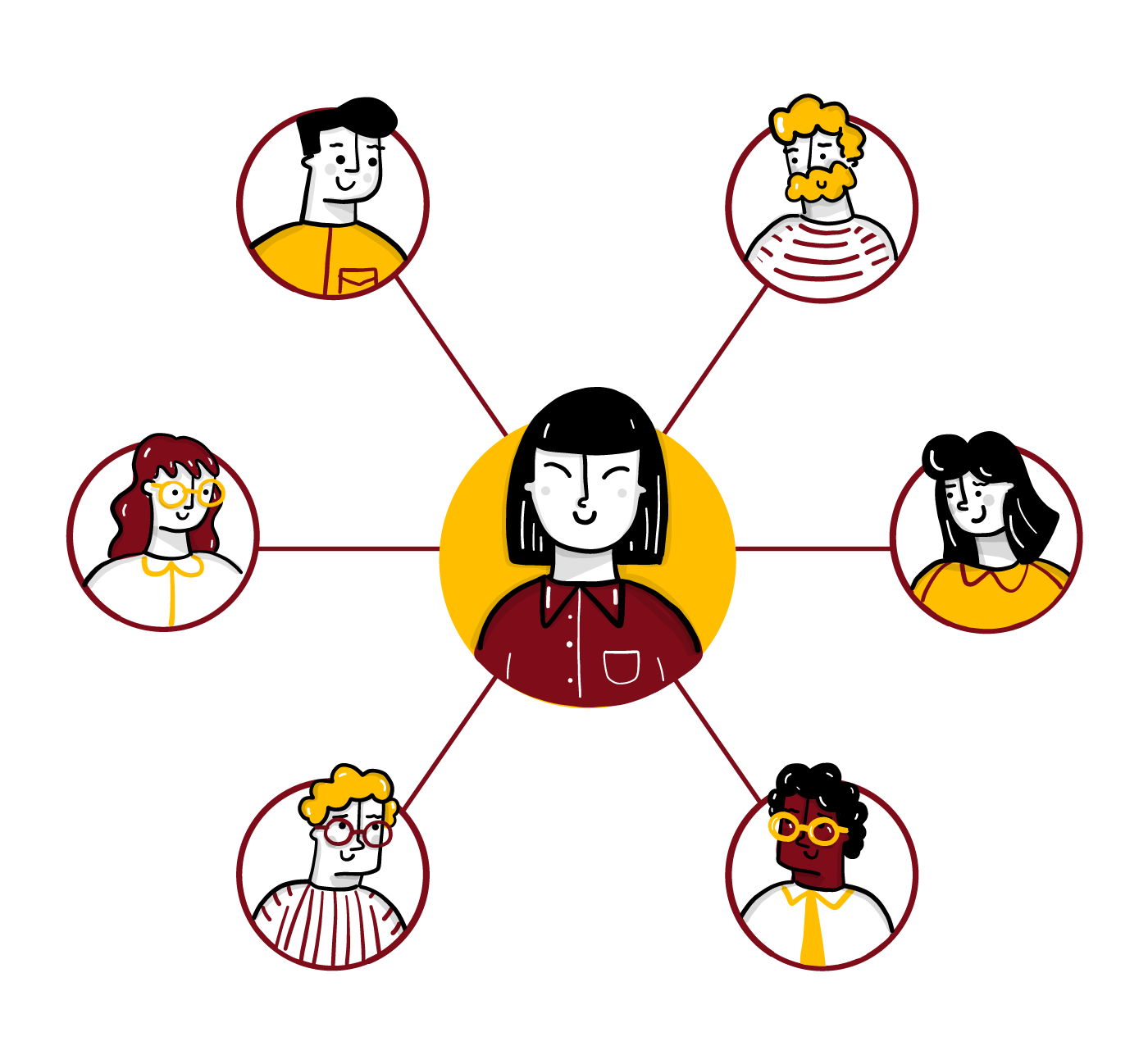 STAKEHOLDER SAVVY
"Oh, the games people play"
The ability to assess interpersonal dynamics and operate effectively in a variety of social situations.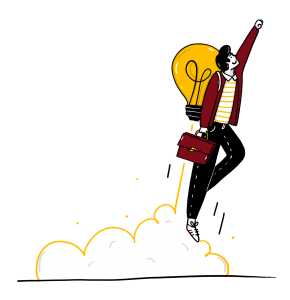 INTRAPRENEURSHIP
"A hero's gamble to break boundaries"
Building the organization by identifying new opportunities to develop or improve operations, products, or services.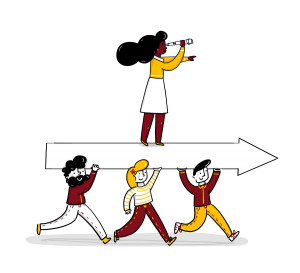 DRIVE FOR RESULTS
"Separating real leaders from the wanabees"
The ability to be persistent and tenacious in ensuring goals are achieved.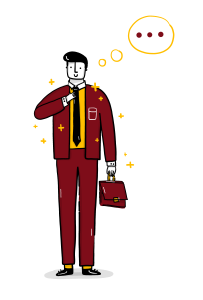 EXECUTIVE PRESENCE
"The power of swagger"
The ability to make clear and convincing oral and/or written presentations in order to influence and lead others.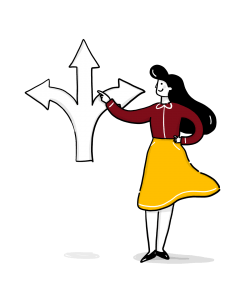 STRATEGIC DECISION-MAKING
"Cracking the code of the unknown"
The ability to make good decisions or lead a good decision making process, based on top strategic goals and priorities.
What is MicroLeadership?
Microleadership:
is the ability to lead others in a way that positively affects even the small parts of what they do
frequently requires the use of small scale innovation and action planning to influence others to think or act differently
is an impact you have on people when they see the benefits of the proposal of your ideas
leads the shifting of mindsets and behaviors in order to build high performing teams
What is the MicroLeadership Challenge?
The MicroLeadership Challenge is a structured leadership lab accelerator, where the each participant works on a self- or organizational-generated idea which has the potential to produce a positive impact on their job or within the company.  (Note: A leadership lab is a real-world, on-the-job experience that simultaneous develops acumen on targeted leadership skills and competencies.)
Participants are led through a hybrid design-thinking & action learning framework, which develops the 7 critical leadership tactics which differentiate the success of  high performing leaders: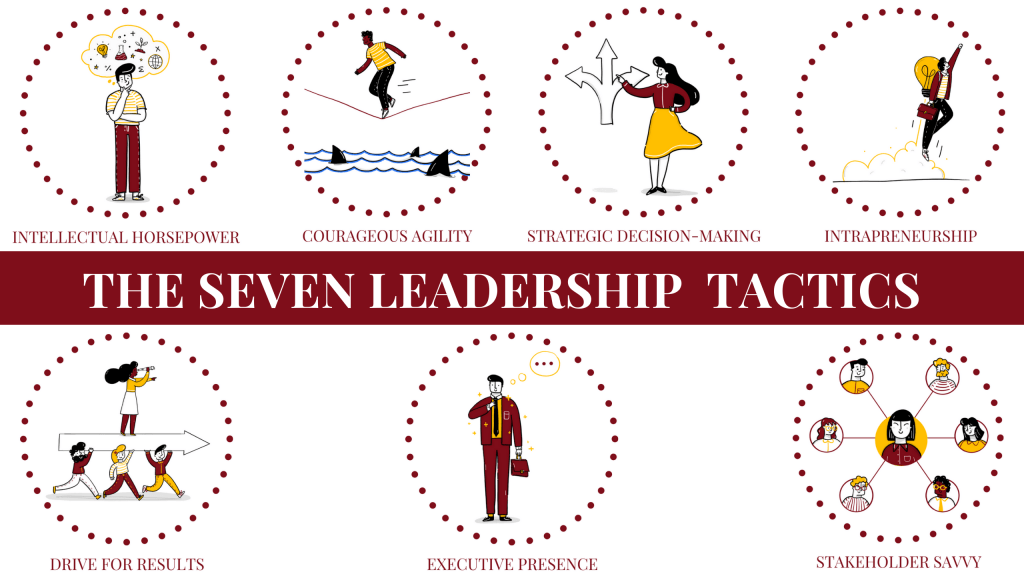 What is the Experience?
During the The MicroLeadership Challenge , we guide your participants from idea to execution. The goal of this experience is to teach participants how to embrace innovation and lead teams to accomplish initiatives in a structural way that ultimately has a high probability to positively impact the company's business metrics within a short period of time (usually <3 months).
Who should participate: Ideal for individuals whose professional development goals align with one or more of the 7 tactics.
Length of Program: The length of program will vary, based on our co-creation with you of the design of The MicroLeadership Challenge for your organization. At a minimum, ten 90-minute sessions over a 10-week period is recommended. A great deal of work by participants is completed between sessions, with mandated accountability check-ins with our leadership execution coaches.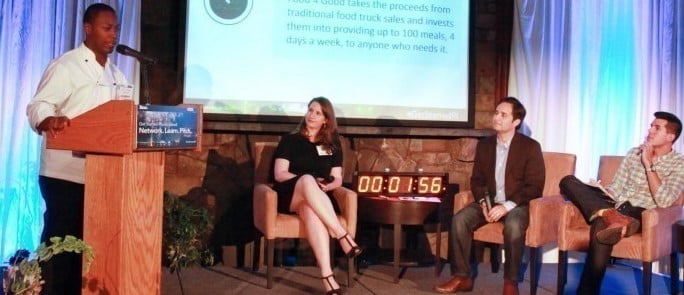 THE LEARNING EXPERIENCE
The complete experience of the Leading at the Top of Your Game® Leadership Development System includes:
The book, "

L

ead at the Top of  Your Game,

" by Karan Ferrell-Rhodes
The Leadership Tactics Diagnostic® (LTD)

Assessment 

The

Leadership Tactics Diagnostic® Interpretive Report

The

Leadership Tactics Diagnostic® individual or group debrief on results
The "Leading at the Top of Your Game" acumen-building workshop 
The "MicroLeadership Challenge" action-learning leadership development experience
As a veteran leadership and organizational development executive of numerous Fortune 100 corporations, Karan Ferrell-Rhodes researched over 10,000 global high-potential leaders and organizations, to pinpoint how they rose to the top of their game in their profession or industry.
In her book, "Lead at the Top of Your Game," Karan shares the lessons learned from her research, as well as the top seven leadership execution tactics mastered by the world's most highest achieving leaders:
Leading with

Intellectual Horsepower

Leading with Courageous Agility
Leading with Strategic Decision-Making
Leading with Intrapreneurship
Leading with a Drive for Results
Leading with Executive Presence
Leading with Stakeholder Savvy
The book demonstrates how organizations across the world use these tactics to create cultures where leadership impact and influence thrives at all levels.
If you are looking to transform leadership theory into demonstrated "leadership-in-action," then this book is for you!
Contact us for group/bulk discounts.
QUICK FACTS:
84 quick-answer questions | 15- to 20-minute completion time
No invasive or intrusive items
No adverse impact
Instantaneous scoring and reporting output
Online administration via self-service portal
Aggregate reporting
Multiple languages (coming soon)
One of the best leadership assessment tools because it:

is accurate
is easy for participants to grasp
focuses on real-world leadership execution
allows insights gained to be put immediately into practical use
The Leadership Tactics Diagnostic assessment is designed to help you better understand the depth of your knowledge of the seven leadership tactics that research has validated to provide the most differentiating value and impact while leading others during the execution of leadership projects and initiatives.
The research-validated online assessment asks participants to choose their natural leadership approach, from a pair of alternatives.  The 15-minute assessment was built using the latest adaptive testing methodology, and each participant receives precise insights to personalize their experience.
While this diagnostic tool measures your depth of understanding of each of the concepts, it does not measure or predict how well you will ultimately execute each tactic. Evaluation of the degree of successful execution of each tactic can only be determined in real time, as you are attempting to execute each tactic, either independently or in tandem with each other.
As such, we offer a variety of developmental workshops and experiences which give individuals insights on where they excel and where they have opportunities to improve as leaders.
In addition, the assessment has a special section which shares valuable insight about which tactics and methods best influence you.  This information can be invaluable as you coach others how to best collaborate with you.
Purchase singular assessments for $275 each.  Contact us for group/bulk discounts.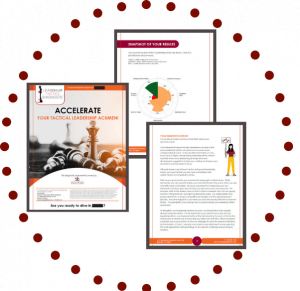 The Leadership Tactics Diagnostic Interpretive Report provides participants with valuable insights that unlock engagement and inspire them to strive to up-level their leadership capability.
The personalized, 25-page report includes:
descriptions of each of the seven leadership tactics
your acumen score corresponding to each, and
the leadership competencies associated with successful execution of each tactic
It also provides information on why each tactic is highly valued during leadership efforts, what it looks like when one is performing at a high level and development suggestions to help you continue to sharpen your acumen in all seven areas of focus.
Although leaders use all seven tactics during most leadership efforts, you may find that you are more comfortable with certain tactics as compared to others. As such you will learn what comes naturally and what might be challenging when leading others, while gaining actionable strategies to strengthen your impact and influence within your workplace, profession or industry.
** The Interpretive Report is included with the purchase of the assessment, with no additional charge.**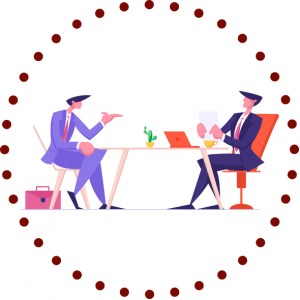 No matter if you take the Leadership Tactics Diagnostic assessment as a one-off experience or as part of a group training session, we offer individualized coaching for those who desire a more personal debrief and strategy session. 
We have a pool of certified coaches which will work with you to more deeply review your results and help you create an action plan for your next leadership goal or personal development plan.
One-on-one coaching sessions are typically 90 minutes in length.
Have you taken the assessment yet?

  If so, we invite you to book your coaching debrief and strategy session today!  Once you submit payment, you will receive an email with scheduling instructions.  Cost:  $450

Are you with a group or your employer?  Ask about our discount pricing.

  Before purchasing on your own, check with your leader or HR staff to see if your organization has purchased already on your behalf.  
The Leading at the Top of Your Game Workshop—which can take place virtually or in-person—amplifies the lessons of the book and the insights of the Leadership Tactics Diagnostic assessment, by giving an organization's members space to deeper understand, practice and explore leadership execution best practices learnings even further, with the support of specialized facilitators.
This highly interactive training experience, which includes a group debrief of the Leadership Tactics Diagnostic assessment, incorporates the use of a variety of resources and tools, all designed to inspire and upskill any level of leader to be equipped to execute whatever leadership challenges lay ahead. 
We offer three highly interactive workshop versions, which can be intact or split over multiple days:
3-hour:  Assessment debrief + overview of leadership tactics

7-hour:  Assessment debrief + deep skill development of leadership tactics

10-hour:  Assessment debrief + deep skill development of leadership tactics + leadership-in-action curriculum
Participants return to the workplace with an action plan in hand, prepared to implement their chosen leadership priorities back on the job, beginning Day 1.
NOTE:  There are multiple customizations of this workshop available, including:
For all employees [can be customized for particular job functions (ex. sales, finance, technology, customer service, etc.)]
Leaders and high-potential employees
Senior Executives
After participants have attended the "Leading at the Top of Your Game" workshop, it's time to uncover the magic which occurs when they convert their leadership potential into truly demonstrated leadership-in-action!
The MicroLeadership Challenge is a 10-week leadership lab accelerator, designed as an ideal learning experience to add to your leadership development programs.  During the structured experience,  each participant works on either a self-generated or organizational-generated initiative which has the potential to produce a positive impact on their job or within the company.
(Note: A leadership lab accelerator is a real-world, on-the-job experience that simultaneous develops acumen on targeted leadership skills and competencies.)
Participants are led through a hybrid design-thinking and action learning framework, which provides participants real-world practice in applying the 7 critical leadership tactics which differentiate the success of  high performing individuals.  Also, each participant is assigned a leadership tactics coach, to provide support throughout the process.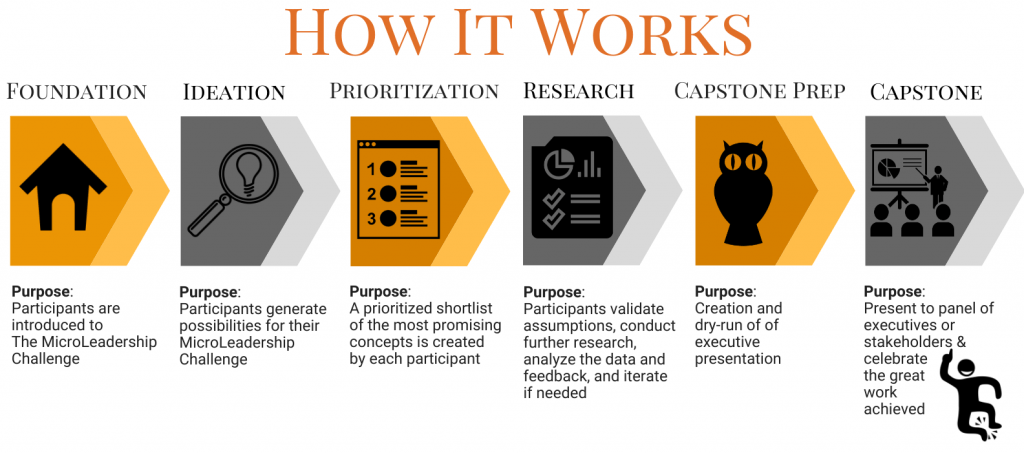 The MicroLeadership Challenge develops individuals to become more adept in making recommendations, taking calculated risks, and leading an action plan for leadership execution.
Creating a culture of impact and influence through microleadership shows a commitment by your organization of embracing the best initiatives which will keep the organization cutting edge and competitor-proof.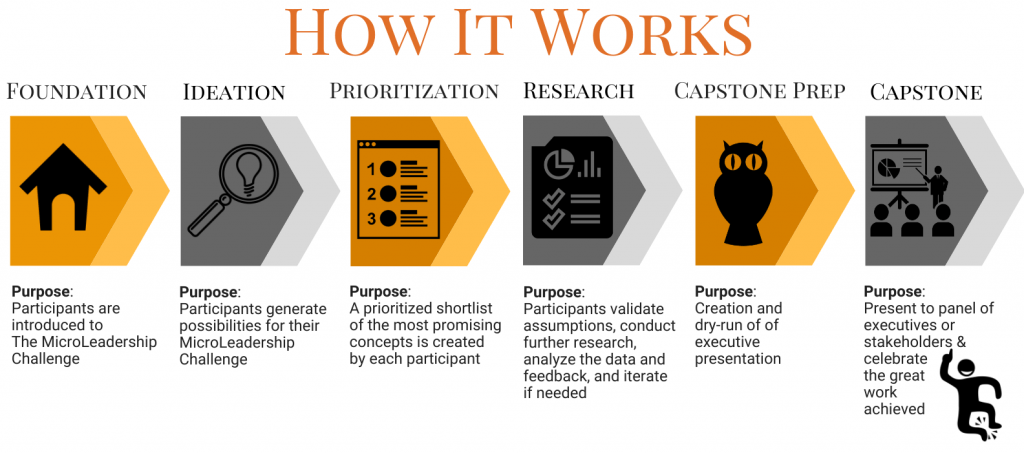 The Value of The MicroLeadership Challenge
STRUCTURE:  We provide a structure for your organization's leadership initiatives that allows for exploration and learning, without disrupting your current operations.
RESEARCH-BASED:  We focus on participants developing the 7 research-based success tactics, which are proven to differentiate the capability of high performing leaders.
ENGAGEMENT:  Participants are motivated and inspired by working on their own work-related passion project, which in turn decreases bad retention risk and increases individual engagement.
MINDSET:  We show each participant how they can incorporate a new mindset and methodology to become an even stronger leader – no matter if they are an individual contributor or people manager
SAFE SPACE:  We provide a "safe space" for participants to have the courage to try, even if they fail, without impacting their current job performance
STAKEHOLDER SUPPORT:  We teach the direct managers of participants how to best support them in order to experience maximum results.
ARTICULATED ROI:  By the end of the experience, organizations have numerous vetted leadership pilot projects, which have an extremely high potential for improving operations and impacting the bottom line.
Bring the MicroLeadership Challenge to Your Organization
Our consultants partner with you to thoroughly connect the critical success factors of your leadership lab accelerator experience to the business priorities of your organization.
What differentiates our firm includes how we "do our homework" to create actionable, practical recommendations to increase the value and impact of your program.
Once you give your stamp of approval, we "plug and play" by not leaving you to do the day-to-day program management and execution work. Our team will take the lead to execute your plans – freeing your internal resources to focus on other priorities.
Our job is to make you look good! And when you look good, we look good!
Fees and Payment Options
Upon signed contract or Statement of Work, payments may be made by:
Credit Card: Both corporate and personal credit cards accepted.
Purchase Order/Invoice: SDL will send an invoice directly to you or your company. If a purchase order or registration in your company's vendor system is required, please contact us at 770-384-1103 or via email.
It is pretty rare to find such a unique leadership course that has such impact on Day One, post-workshop. The key to maximum engagement in the class is the way you teach – being a subject expert and being open to help participants customize the tactics to address the dynamics of their own situations – Karan is definitely both! All levels of working professionals in any industry will benefit from this development offering
Get in touch to explore how to bring this dynamic workshop to your organization.
#AboutSDL
Shockingly Different Leadership is a human capital professional services consultancy that provides organizations access to the best consulting expertise in the areas of Talent Development, Organizational Development, and Human Resources – on an on-demand, project, or contract basis.
#WhereToFindUs
MAILING
4480-H South Cobb Drive
PMB 219
Smyrna, GA 30080
PHYSICAL
2121 NewMarket Parkway
Ste. 108
Marietta, GA 30067
#ContactOptions
Customer Service Email:
service@shockinglydifferent.com
Call or Text:
770-384-1103
#Office Hours
MON-FRI
8:30 AM – 6:30 PM
Weekends By Appointment