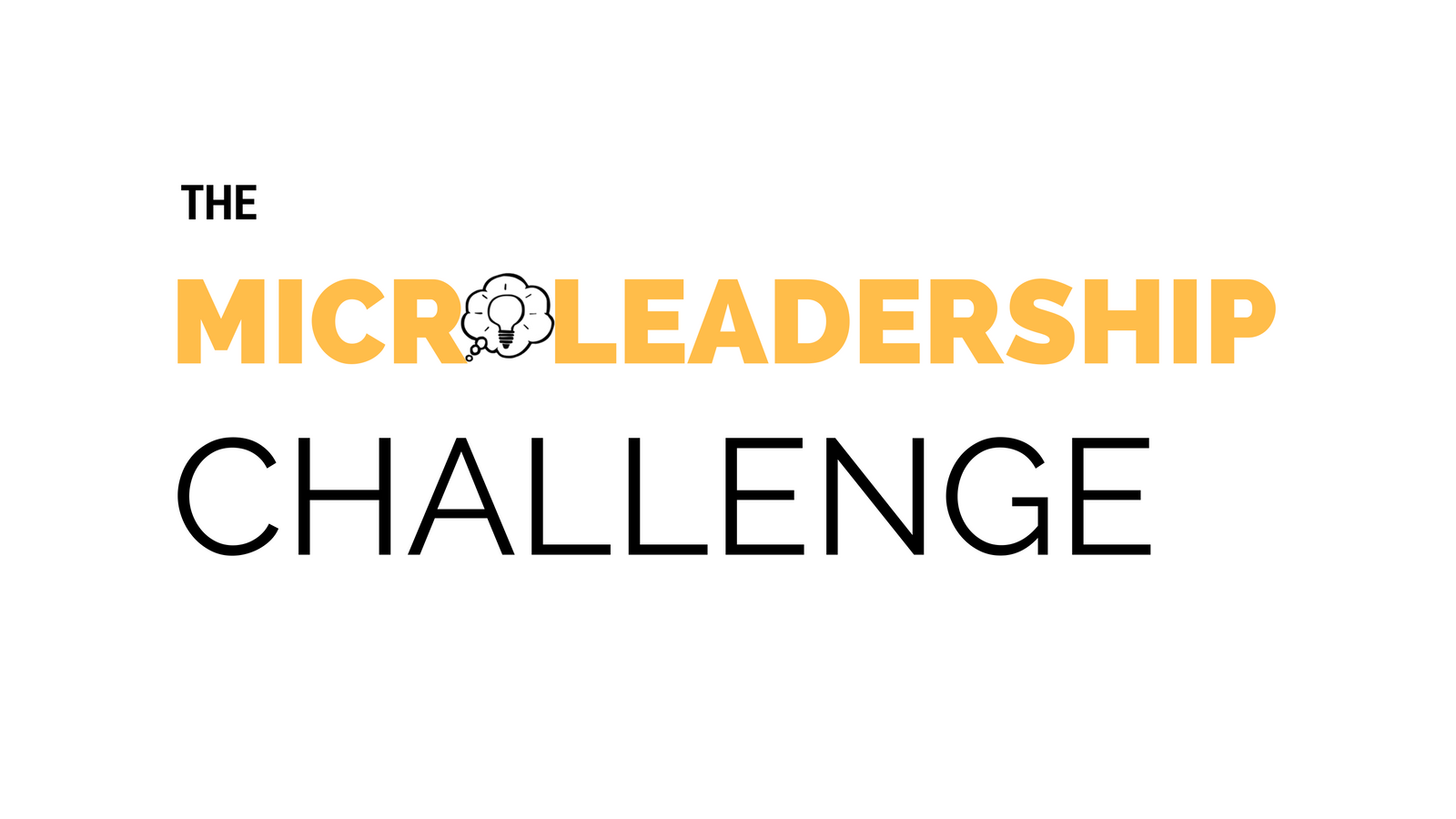 Build stronger leaders who thrive to innovate and put leadership into action!

OVERVIEW
Inside every individual lies powerful ideas and the capability to become a stronger leader.
Eager to pull out those ideas from your team and bring innovative thinking into reality?
If so, then The MicroLeadership Challenge is an ideal solution for your next team development or leadership program.
What is MicroLeadership?
Microleadership:
is the ability to lead others in a way that positively affects even the small parts of what they do
frequently requires the use of small scale innovation and action planning to influence others to think or act differently
is an impact you have on people when they see the benefits of the proposal of your ideas
What is the MicroLeadership Challenge?
The MicroLeadership Challenge is a structured leadership lab where the each participant identifies and works on a self-generated idea which has the potential to produce a positive impact on their job or within the company.
Note: A leadership lab is a real-world on-the-job experience that simultaneous develops one's leadership skills and competencies
Participants are led through an action learning framework which develops the 7 critical leadership competencies which differentiates high performing leaders: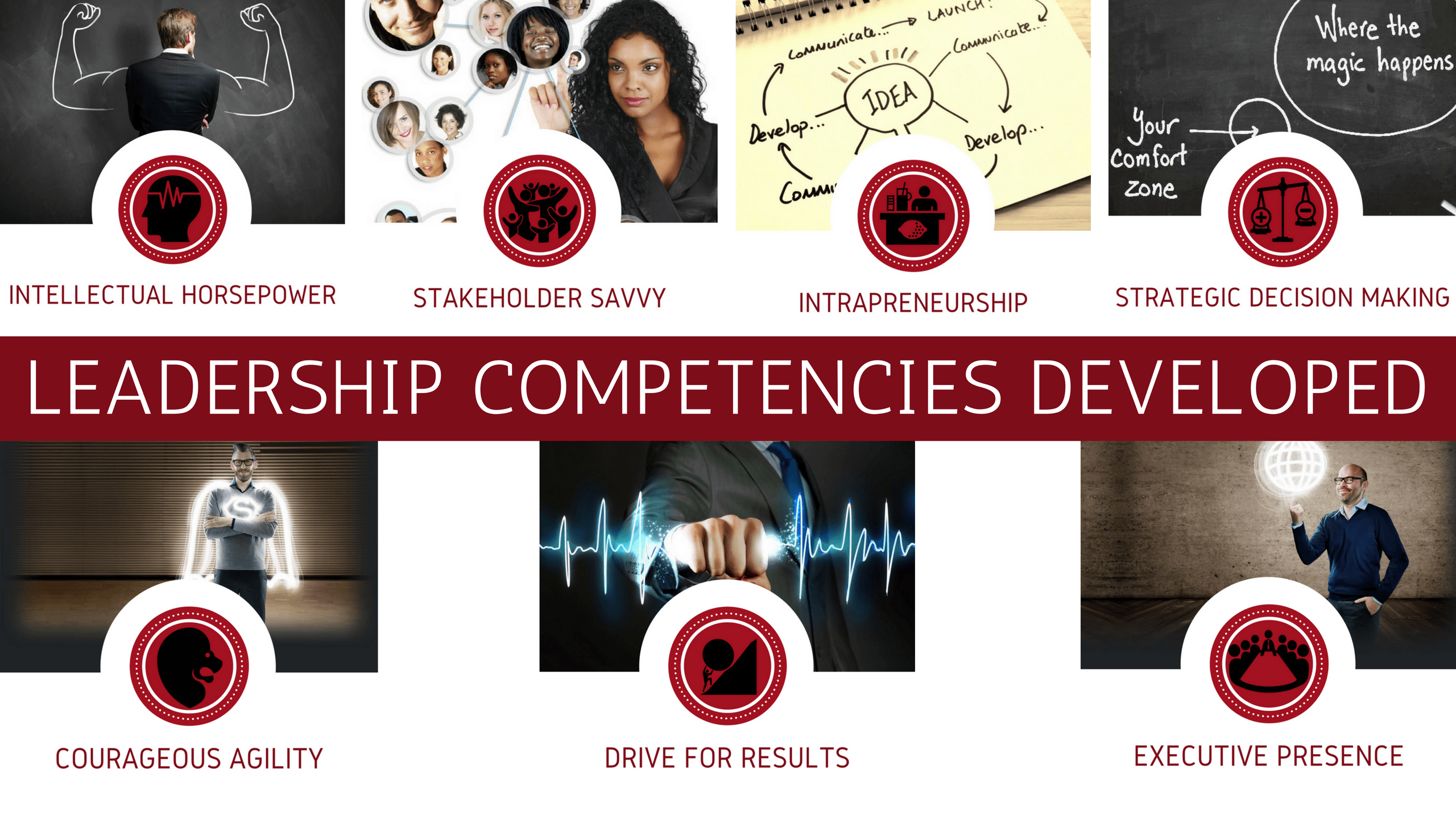 The MicroLeadership Challenge develops individuals to become more adept in making recommendations, taking calculated risks, and leading an action plan for execution.
Creating a culture of innovation through MicroLeadership shows a commitment by your organization to embracing the best ideas which will keep the organization cutting edge and competitor-proof.
Examples of Microleadership:
Influencing a colleague to try a new idea or approach, even on minor work issues
Making comments in a meeting which influence the direction of the conversation
Leading an initiative which has the potential of positive impact (ex. Increased revenue, greater efficiencies, higher customer satisfaction, etc.)
The MicroLeadership Challenge Experience
During the The MicroLeadership Challenge , we guide your participants from idea to pitch to execution. The goal of this experience is to teach participants how to lead and embrace innovation in a structural way that ultimately has a high probability to positively impact the company's business metrics within a short period of time (usually <6 months).
Who should participate: Ideal for an existing pool of people whose professional development goals include one or more of the 7 competencies listed above.
Length of Program: The length of program will vary, based on our co-creation with you of the design of The MicroLeadership Challenge for your organization. At a minimum, 4-5 in-person days over a 3 month period is recommended. A great deal of work by participants is completed between sessions, with mandated accountability check-ins with our leadership coaches.
[Rather have 1 day experience? Ask us about our Innovation Day option, an 8 hour session which can include from 20-200 participants]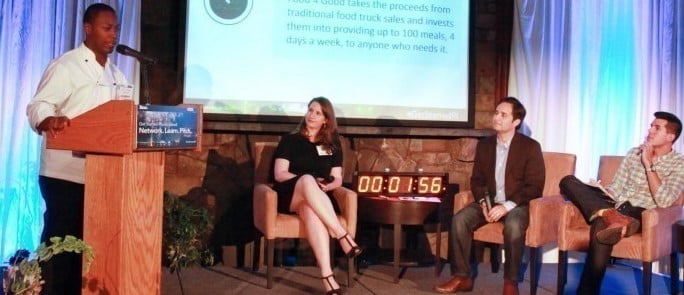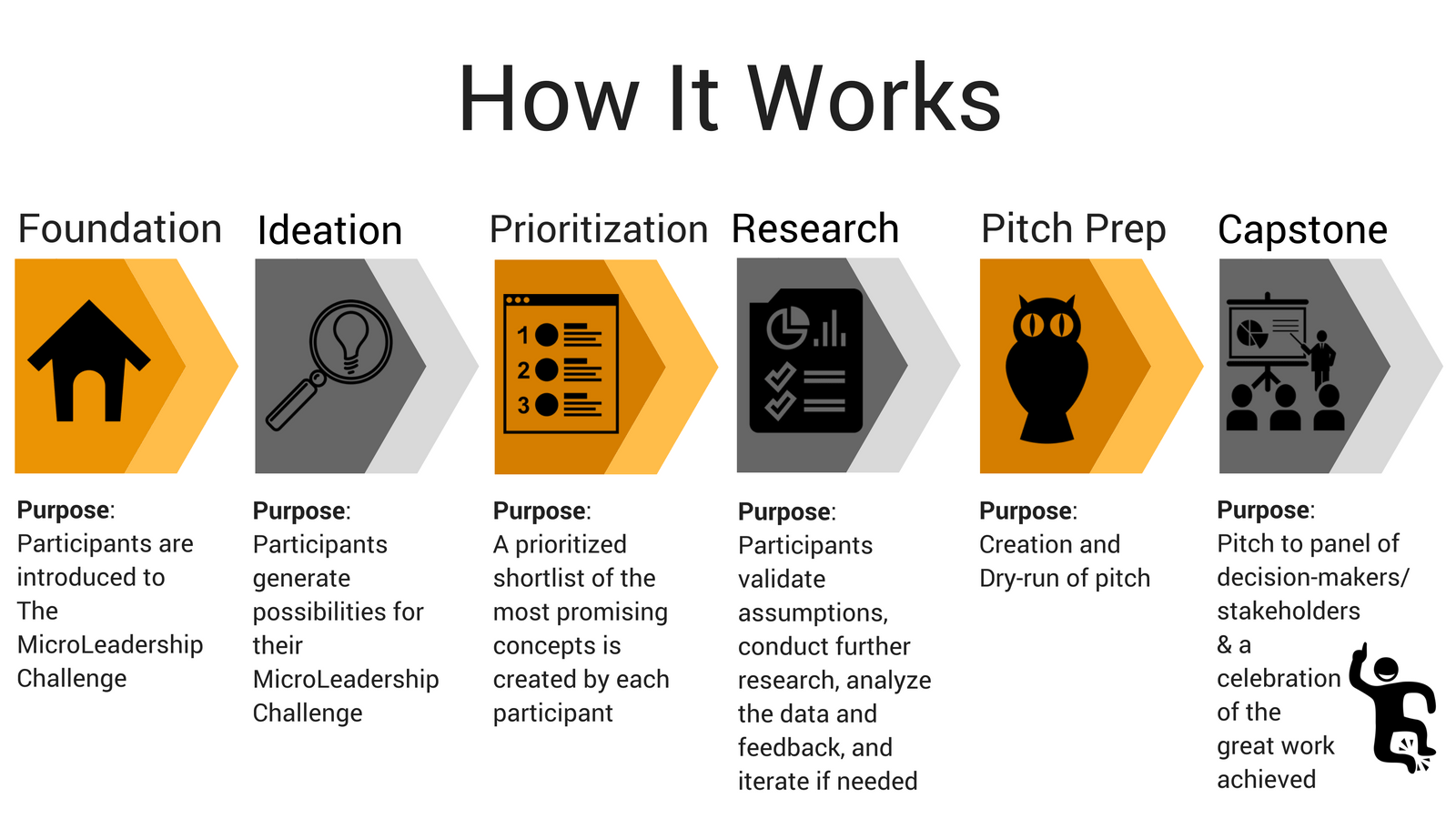 The Value of The MicroLeadership Challenge
We provide a structure for your team's innovation initiatives that allows for exploration without disrupting your current operations.
We focus on participants developing the 7 competencies which differentiate high performing leaders.
Participants are motivated and inspired by working on their own work-related passion project, which in turn decreases retention risk and increases individual engagement.
We show each participant how they can incorporate a new mindset and methodology to become an even stronger leader – no matter if they are an individual contributor or people manager
We provide a "safe space" for participants to have the courage to try, even if they fail, without impacting their current job performance
We teach the direct managers of participants how to best support their staff in order to experience maximum results.
By the end of the experience, organizations have numerous vetted innovation proposals which have an extremely high potential for improving operations and impacting the bottom line.
Implement Your Own MicroLeadership Challenge at Your Organization
Our consultants partner with you to thoroughly connect the critical success factors of your workshop experience to the business priorities of your organization.
What differentiates our firm includes how we "do our homework" to create actionable, practical recommendations to increase the value and impact of your event.
Once you give your stamp of approval, we "plug and play" by not leaving you to do the day-to-day program management and execution work. Our team will take the lead to execute your plans – freeing your internal resources to focus on other priorities.
Our job is to make you look good! And when you look good, we look good!
Fees and Payment Options
Upon signed contract or Statement of Work, payments may be made by:
Credit Card: Both corporate and personal credit cards accepted.
Purchase Order/Invoice: SDL will send an invoice directly to you or your company. If a purchase order or registration in your company's vendor system is required, please contact us at 770-384-1103 or via email.
Get in touch to explore how to bring this dynamic workshop to your organization.
#AboutSDL
Shockingly Different Leadership is a talent development and HR project support consultancy. We provide organizations consulting expertise in the areas of Talent Development, Organizational Development, and Human Resources – on an on-demand, project, or flexible basis.
#WhereToFindUs
MAILING
4480-H South Cobb Drive PMB 219
Smyrna, GA 30080
PHYSICAL
2121 NewMarket Parkway
Ste. 108
Marietta, GA 30067
#ContactOptions
Customer Service Email: service@shockinglydifferent.com
Call or Text: 770-384-1103
#Office Hours
MON-FRI
8:30 AM – 6:30 PM
Weekends By Appointment