Let us help you design and implement ongoing development for leadership program alumni
OVERVIEW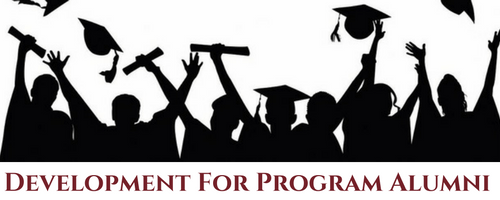 You have invested significant time and resources in providing robust development programs for your top employee talent.
However, when the formal portion of the program ends, your program alumni likely feel lost and wonder "what's next" for them –  all at the very time when you are eager to start witnessing the ROI in your investment in their program participation.
A critical (but commonly overlooked) component of any talent development program is creating an ongoing strategic development approach for past program alumni.
By not providing a focus on program alumni, companies greatly increase the retention risk of these highly valued human assets.
At Shockingly Different Leadership, we provide consulting and program management services to help companies implement an ongoing development strategy for their program alumni.
We are dedicated to building programs designed to engage alumni in the missions of the company and the clients in which they serve. We do this by structuring real-world, high value experiences which continue to grow their capability in a manner which both excites them AND delights you!
You need to know more about the ongoing development of your high performing program alumni, and they need more exposure to critical experiences and stakeholders which will motivate them to unleash their underused potential.
Each development experience for your program alumni will:
Help them use their unique skills and talents in a manner that catapults job performance & business metrics
Help validate the viability of your most promising talent for roles of greater scope and responsibility.
Some of the most popular initiatives for development of program alumni include:
Advocacy:  encouraging their involvement as company advocates via stretch projects and focus group opportunities

Community Impact

:  sharing their expertise by supporting community-based initiatives

Program Support

:  encouraging targeted alumni involvement in current program activities

Alumni Network

:  strengthening alumni bonds via peer fellowship, mentoring and professional support
How We Partner – Creating a Development Program Alumni Strategy
Our consultants partner with you to help you create a strategy for ongoing development for you leadership program alumni.
What differentiates our firm includes how we "do our homework" to create actionable, practical recommendations to increase the value and impact of your event.
Once you give your stamp of approval, we "plug and play" by not leaving you to do the day-to-day program management and execution work. Our team will take the lead to execute your plans – freeing your internal resources to focus on other priorities.
Our job is to make you look good! And when you look good, we look good!
Fees and Payment Options
Upon signed contract or Statement of Work, payments may be made by:
Credit Card: Both corporate and personal credit cards accepted.
Purchase Order/Invoice: SDL will send an invoice directly to you or your company. If a purchase order or registration in your company's vendor system is required, please contact us at 770-384-1103 or via email.
Get in touch to explore how SDL can create an impactful development
strategy for your leadership program alumni.
#AboutSDL
Shockingly Different Leadership is a human capital professional services consultancy that provides organizations access to the best consulting expertise in the areas of Talent Development, Organizational Development, and Human Resources – on an on-demand, project, or contract basis.
#WhereToFindUs
MAILING
4480-H South Cobb Drive
PMB 219
Smyrna, GA 30080
PHYSICAL
2121 NewMarket Parkway
Ste. 108
Marietta, GA 30067
#ContactOptions
Customer Service Email:
service@shockinglydifferent.com
Call or Text:
770-384-1103
#Office Hours
MON-FRI
8:30 AM – 6:30 PM
Weekends By Appointment