Implement inclusion initiatives which reinforce openness and a diversity of perspectives
OVERVIEW
A focus that once lacked attention in the corporate world is now at the forefront of many businesses. Diversity, equity, and inclusion initiatives are widely spreading across industries with new roles, practices, and perspectives.
More companies than ever before are committing to inclusive and equal hiring and workplace environments that welcome people of all backgrounds.
Over the past five years, there has been a 71% increase in D&I roles globally.  If you're not a part of this evolution, you're left behind
One of the keys to building high performing leaders who are adaptive in this new global economy is to nurture the respect of inclusion.  A culture that doesn't promote a diversity of perspectives stifles innovation, high performance, and employee engagement.

Many leaders struggle with how to manage inclusion in the workplace.  It is a constant work in progress, and definitely cannot not be treated as a 'one-off' initiative in order to be effective.

We love to challenge our clients to frame their inclusion approach in 3 steps:
1. Pursue inclusion:  Be intentional about inclusion initiatives such as creating a diverse pool of job and leadership candidates, encouraging open communication, and training managers on best practices in establishing inclusive cultures.
2. Create inclusion:  Actively infuse inclusion tactics in all normal business and work responsibilities.
3. Own inclusion:  Drive individual accountability for inclusion to all employees in the organization by reinforcing strategies, tactics, and initiatives which increase personal buy-in.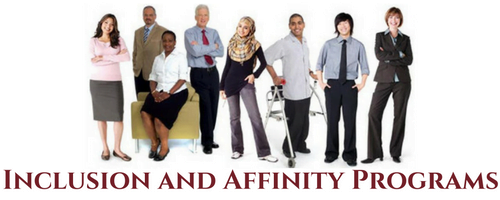 At Shockingly Different, our consulting services help organizations incorporate solutions to monitor and retain a talented and diverse workforce.  We help to embed inclusion into the culture by using development components such as:
Global mentoring programs
Employee affinity/resource groups
Multicultural talent management
Peer coaching groups
Inclusion workshops
Awareness of unconscious bias workshops
Inclusion "interventions"
e-Learning modules
We use our extensive knowledge in inclusive leadership to help identify your needs and devise custom solutions to exceed your expectations.
Our consulting practice helps in 5 major areas:
Program Strategy:  Creating a comprehensive, ongoing diversity and inclusion strategy which will be embedded 

into the organizational culture

Program Design:  Designing Inclusion programs which contain an ideal mix of development and engagement components
Program Facilitation:  Facilitating customized learning programs with practical strategies that each employee can implement immediately
Program Measurement:  Linking inclusion programs to business results through a dashboard of metrics
Continuous Improvement:  Facilitating post mortem sessions to evaluate attainment of inclusion program goals and metrics;  Makes recommendations for future course corrections and/or improvements.
How We Partner – Diversity, Inclusion & Program Design Services
Our consultants partner with you to thoroughly connect the critical success factors of your inclusion program design strategy to the business priorities of your organization.
What differentiates our firm includes how we "do our homework" to create actionable, practical recommendations to increase the value and impact of your program.
Once you give your stamp of approval, we "plug and play" into your current rhythm of the business.
And we don't leave you hanging to do the day-to-day program management work. Our team will take the lead to execute it – freeing your internal resources to focus on other priorities.
Our job is to make you look good! And when you look good, we look good!
Fees and Payment Options
Upon signed contract or Statement of Work, payments may be made by:
Credit Card: Both corporate and personal credit cards accepted.
Purchase Order/Invoice: SDL will send an invoice directly to you or your company. If a purchase order or registration in your company's vendor system is required, please contact us at 770-384-1103 or via email.
Get in touch to explore how SDL can support your inclusion program design needs.
#AboutSDL
Shockingly Different Leadership is a human capital professional services consultancy that provides organizations access to the best consulting expertise in the areas of Talent Development, Organizational Development, and Human Resources – on an on-demand, project, or contract basis.
#WhereToFindUs
MAILING
4480-H South Cobb Drive
PMB 219
Smyrna, GA 30080
PHYSICAL
2121 NewMarket Parkway
Ste. 108
Marietta, GA 30067
#ContactOptions
Customer Service Email:
service@shockinglydifferent.com
Call or Text:
770-384-1103
#Office Hours
MON-FRI
8:30 AM – 6:30 PM
Weekends By Appointment