Learning & Development | Human Resources| Organizational Development
Transform Your Vendor Engagement Experience
Tap into our proven, global team of top-tier project support consultants who are on-call to help ensure your next initiative's success.
All Human Resources, Learning and Development, and Organizational Development departments have peak periods of work when they could use an extra hand.
With the availability of additional headcount minimal, the work being complex, and deadlines firm, you may find yourself and your team working long days and nights.
But it doesn't have to be that way!
Now you have a proven, established, project support vendor partner who will give you the flexibility to scale up or down your staff as needed, while still remaining under budget.
Organizations turn to SDL to engage contract talent, on a project basis, to help expedite critical Learning, HR, OD, and OE initiatives.
What makes us different from competitors is that we don't place random HR-related people in your business.  All our internal team of experts are part of the SDL family and have been working with us for numerous years on various engagements in the United States and around the world . . . . .  all to RAVE reviews!
Our goal is to earn the right not to be a "one and done" project support vendor partner for your organization.  Success for the both of us depends upon building such a deep, trusting relationship, that having Shockingly Different Leadership "on speed-dial" to assist you when needed is a no-brainer.
>>So, go ahead.  Give us a try.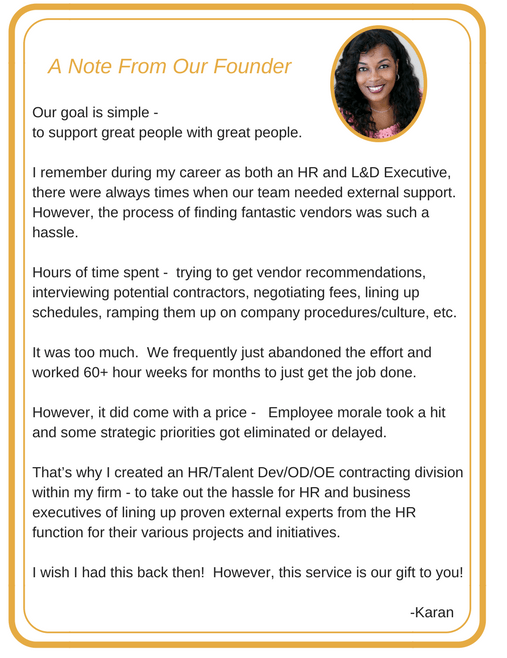 Soon, the only difference between us and you will just be the color of our employee badge!
Training & Development Delivery
Our trainers are skilled to facilitate both internal and external courses.
HR Generalist & Functional Specialists
Interim and contract HR staff ready to help, either on-site or virtually.
Org Development & Effectiveness
Our OD and OE consultants are experts in guiding organizations through tranformative initiatives.
Curriculum Design & Development
We develop both instructor-led and virtual content using interactive methods.

Let's Get the Conversation Started! Submit Your Initial Inquiry Below.
Frequently Asked Questions
What type of project opportunities do you support?
Answer: 
We support Talent Development, Human Resources, and Org Effectiveness initiatives.
-Project Based
-Interim Coverage, due to occurrences such as personal leaves, restructuring, etc.
-Customized Programs or Solutions
How do you assign your experts to project opportunities?
Answer:
Our consultants are tenured members of our team who've been assigned to numerous previous engagements. Prior to any new project engagement, we first develop a comprehensive understanding of the objectives of our client.  Then we select the top 2-3 experts in our consultant pool, to confirm their interest and true fit. We then present our prospective clients with a curated short-list of our staff who are ready, qualified, and excited to collaborate on your scope of work.
Why should I use SDL for my people-related contract needs?
Answer:
Great question!  We're here to earn your business. Top talent is critical to any business's success and we're proud to be your potential co-collaborators. We deliver execution-ready, vetted, high quality experts that fit within your budget and allow you to focus on best next steps.
What fees does SDL charge?
Answer:
We do not charge any service fees.  Who wants those?  You should only pay a fair amount for the work we provide. We function similar to most company vendors who partner with organizations. When you meet with us, we will jointly discuss your project budget and SDL will send you a proposal for the scope of work. All payments are processed through SDL and are equal to the agreed upon project cost. We pay our consultants directly.
How do I pay SDL?
Answer:
Once a contract is agreed upon and signed by all parties, you select your desired form of payment. A purchase order may be opened or payments may be securely made to SDL via check or credit card.
Note:
for most contracts, a small deposit is required to start all contracted projects.
Does all talent work remotely?
Answer:
It's your call. When a company provides us with their talent needs, they can specify if the work is primarily in office, remote or a combination of the two.
Am I able to have the talent sign a Non-Disclosure Agreement before getting started on my project or assignment?
Answer:
You better believe it!  They have already signed one with SDL, but we can have them sign your organization's as well.
What geographies do you serve?
Answer:
We are a global firm who support clients in all geographies.
I am a consultant who would like to work for SDL. How can I join the team?
Answer:
We would be happy to review your credentials, but please know that we are not a temporary placement agency who accepts resumes from thousands of interested parties.
We are a contracting firm whose niche specialty is in supporting HR functions like Learning & Development, Org Development/Effectiveness, and general Human Resources.
SDL's differentiating value to our clients is in offering skilled, contract talent who have a proven work history with SDL.  If you would like to learn more about how to be considered for our expert team, please click here.
We Also Offer Employer of Record Services

"Employer of Record" services, also called Contractor Payrolling, is considered an essential element of many organizations' talent strategy.
When you partner with an Employer of Record, you outsource the administration and payment of contract labor to us, which allows you to save both time and money by collaborating with only 1 vendor partner.
We handle all payments, paperwork, tax forms, background checks, insurance, drug screenings, on-boarding/off-boarding, and contractor relations issues. These services are ideal for:
Contractor/1099 Management
Short-term or Special Projects
Interim or Probationary Hiring
On-Call Employees
Internal Head Count Restrictions
Interested in exploring whether these services may be ideal for your company?
Let's schedule a time to chat.
Industries Served
Automotive
Banking and Finance
Consumer Goods
Energy
Government
Healthcare
Insurance
Leisure
Manufacturing
Media
NonProfit
Pharmaceuticals
Professional Services
Retail
Start-ups
Technology
Telecommunications
Transportation
Venture Capital/Private Equity
#AboutSDL
Shockingly Different Leadership is a human capital professional services consultancy that provides organizations access to the best consulting expertise in the areas of Talent Development, Organizational Development, and Human Resources – on an on-demand, project, or contract basis.
#WhereToFindUs
MAILING
4480-H South Cobb Drive
PMB 219
Smyrna, GA 30080
PHYSICAL
2121 NewMarket Parkway
Ste. 108
Marietta, GA 30067
#ContactOptions
Customer Service Email:
service@shockinglydifferent.com
Call or Text:
770-384-1103
#Office Hours
MON-FRI
8:30 AM – 6:30 PM
Weekends By Appointment