A communications assessment and workshop that reveals how the world sees you at your best.
OVERVIEW
Need a leadership development experience designed to demonstrate acumen in influence, impact and ingenuity?
There are a plethora of personality assessments which tell you about your personal tendencies and how you see the world. Only one reveals HOW THE WORLD SEES YOU – The Fascination Advantage™.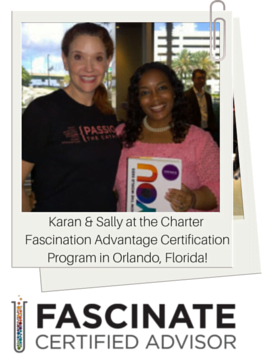 Knowing what makes you naturally fascinating, captivating, and of perceived value is one of the core secret weapons of sought-after leaders in their organizations or industry.
The Fascination Advantage assessment is accompanied by a dynamic workshop which helps to transform you into a highly respected "dynamo" who commands attention.
The Fascination Advantage™ assessment is based on Kelton Research Center's first-ever research study specifically about how people and brands become more fascinating.  Kelton Research's clients include more than thirty of the Fortune 100 corporations, including corporations such as McDonald's, Target, and Pepsi.
Karan Ferrell-Rhodes, CEO of Shockingly Different Leadership, is proud to be one of the charter members certified to administer the Fascination Advantage Assessment!
How It Works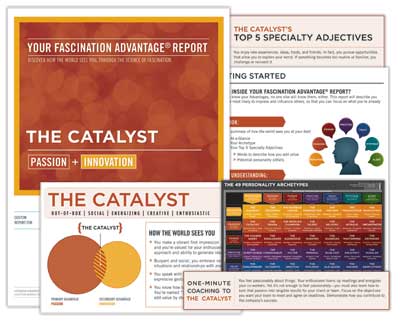 After answering 28 short questions which take approximately 5 minutes, The Fascination Advantage™  assessment will identify your personality's top two advantages and your custom report will give you insights on the way the world sees you when you are at your best.
Their are 49 combinations, called archetypes, that are made by 7 advantage types.  What do you think are your top two?  Are you sure?  Let's find out!

During your Fascination Advantage workshop experience, you will receive:
Your in-depth customized Fascination Advantage results
A detailed description of your unique Advantages
Graphs and charts of your score analysis, including how you compare to the general population
"Warnings" of how you could unknowingly be "turning people off"
The way in which you are least likely to fascinate and influence others
Action steps and one-minute coaching
Checklists, critical thinking exercises, & practical suggestions on why your archetype is one key to your success

Will better understand their natural work and personality style
Will better understand how the world sees them when they are performing as the best version of themselves
Will learn how to influence peers, navigate workplace dynamics, and build high performing teams
Will learn how to avoid the behaviors which make them ineffective and toxic in the eyes of others

Those interested in accurately perceiving  communications styles, behaviors and emotions in both themselves and others.  Also ideal to assist in identifying and building your personal brand.
Learn more about the 
Fascination Advantage Assessment
and its founder, Sally Hogshead.
What is Karan's profile?  The Maestro– Which means her primary advantage is Power, and her secondary advantage is Prestige. These are her two highest out of the seven advantages. Power is the language of confidence, and Prestige is the language of excellence.  Can you now understand why she started a leadership and talent development company for the "best of the best" employees in organizations?!
We would be pleased to discuss how to bring the Fascination Advantage assessment and workshop to your organization and describe how it can accelerate your team members "wowing" your colleagues, your customers, and YOU!
Get in touch to bring this workshop to your organization
Instruction:  Assessment taken online.  Workshop facilitated in-person.  Half day and full day workshops available.
Fees: Based on scope of the design of program. Assessments for groups are deeply discounted from retail price. Contact us for a complimentary preliminary scoping session and cost estimate.
Download PDF Overview
Need to share Fascination Advantage overview with others?
How to Book Workshop
There are multiple ways to enjoy this 1 1/2 day workshop:
Bring this workshop to your organization.  Contact us to discuss dates and pricing.
Register Online for an Open-Enrollment Offering (currently not available)
Payment Options
SDL provides two payment options for your convenience:
Credit Card: You can bill the workshop to a corporate or personal credit card.
Purchase Order/Invoice: SDL will send a bill directly to you or your company. If a purchase order or registration in your company's vendor system is required, please contact us at 770-384-1103.
Public Offering Policies
Transfer, Cancellation and Refund Policy
For open-enrollment Classroom, Live Online, and Webinar programs, participants who can no longer attend may transfer to a future session, send someone to take their place or cancel without penalty at any time up to three weeks prior to the session. If you provide SDL with less than three weeks notice, or fail to attend, you will be liable for the entire program fee. Privately offered sessions for organizations are bound by the terms of the separately negotiated Statement of Work.
---
Seminar Hours and Attire
Q: What time does my workshop begin and end?
A: On the first morning, please arrive at 8:30 am to pick up your registration packet and room assignment. Workshops generally begin at 9:00 am and end at 5:00 pm, except on the last day. On the last day, workshops that run the full day begin at 9:00 am and end at 4:30 pm. Workshops that conclude with half day sessions end at 12:00 pm.
Q: What should I wear?
A: Business casual attire is appropriate. Note: room temperatures may vary so you may want to dress in layers. Travel and Accommodations
Q: Will SDL help me make travel arrangements?
A: SDL partners with leading travel organizations to offer participants special discounts on hotel rooms and car rentals when attending SDL open-enrollment workshops.  We provide these to all participants on this site when public offerings are available. Participants will be required to make and pay for the reservations themselves. We appreciate that this is an important investment for you and your company and would like to accommodate your needs the best we can. Therefore, please contact us should you have any additional questions.
Or be notified of next public offering by completing form below
#AboutSDL
Shockingly Different Leadership is a human capital professional services consultancy that provides organizations access to the best consulting expertise in the areas of Talent Development, Organizational Development, and Human Resources – on an on-demand, project, or contract basis.
#WhereToFindUs
MAILING
4480-H South Cobb Drive
PMB 219
Smyrna, GA 30080
PHYSICAL
2121 NewMarket Parkway
Ste. 108
Marietta, GA 30067
#ContactOptions
Customer Service Email:
service@shockinglydifferent.com
Call or Text:
770-384-1103
#Office Hours
MON-FRI
8:30 AM – 6:30 PM
Weekends By Appointment