Strengthen your leadership bench strength by identifying the
right

people for the

right

roles
OVERVIEW
Every leader is an interim leader. Do you have a "ready-now" succession replacement?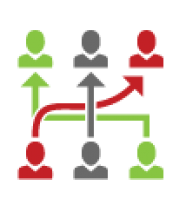 Leadership development, succession planning and leader onboarding are sister processes which are powerful in driving your talent management and retention strategies.  Do them right – you maintain a healthy, competitive-ready organization.   Do them wrong – in a word, catastrophic.
We partner with you on your succession planning initiatives to ensure the right leaders are ready, when and where they are needed – both now and in the future.
Our team guides you step by step in setting up processes for evaluating both internal and external talent and linking their capabilities to key roles in your organization.
Our succession planning consulting practice helps in 4 major areas:
Succession Planning Strategy
Creating a comprehensive succession strategy which helps to reduce risk of lack of "ready-now" individuals to fill future leadership openings
Succession Planning Implementation
Educating and guiding all stakeholders step-by-step through the succession planning lifecycle
Define and identify profile of the kind of leader needed both now and in the future
Identify and assess internal and external candidates, using rigorous competency profiles
Create a specific development plan for each individual in your internal talent pipeline
Transfer knowledge amongst HR and leadership team, to sustain the succession planning process for the longer-term, no matter the level of turnover in key stakeholders
Succession Measurement
Linking succession strategy to development and retention metrics through a succession planning dashboard of metrics
Continuous Improvement
Facilitating post-mortem sessions to evaluate attainment of succession goals and metrics;  Makes recommendations for future course corrections and/or improvements
How We Partner – Succession Planning Services
Our consultants partner with you to thoroughly connect the critical success factors of your succession planning strategy to the business priorities of your organization.
What differentiates our firm includes how we "do our homework" to create actionable, practical recommendations to increase the value and impact of your event.
Once you give your stamp of approval, we "plug and play" by not leaving you to do the day-to-day program management and execution work. Our team will take the lead to execute your plans – freeing your internal resources to focus on other priorities.
Our job is to make you look good! And when you look good, we look good!
Fees and Payment Options
Upon signed contract or Statement of Work, payments may be made by:
Credit Card: Both corporate and personal credit cards accepted.
Purchase Order/Invoice: SDL will send an invoice directly to you or your company. If a purchase order or registration in your company's vendor system is required, please contact us at 770-384-1103 or via email.
Get in touch to explore how SDL can support your succession planning needs.
#AboutSDL
Shockingly Different Leadership is a human capital professional services consultancy that provides organizations access to the best consulting expertise in the areas of Talent Development, Organizational Development, and Human Resources – on an on-demand, project, or contract basis.
#WhereToFindUs
MAILING
4480-H South Cobb Drive
PMB 219
Smyrna, GA 30080
PHYSICAL
2121 NewMarket Parkway
Ste. 108
Marietta, GA 30067
#ContactOptions
Customer Service Email:
service@shockinglydifferent.com
Call or Text:
770-384-1103
#Office Hours
MON-FRI
8:30 AM – 6:30 PM
Weekends By Appointment