SECURE YOUR SEAT!
To insure an intimate experience, we limit participation to 50 attendees for each session.
Treat yourself to a few hours of innovation and networking.  You deserve it!
Our October 20th Design Sprint is Just Around the Corner!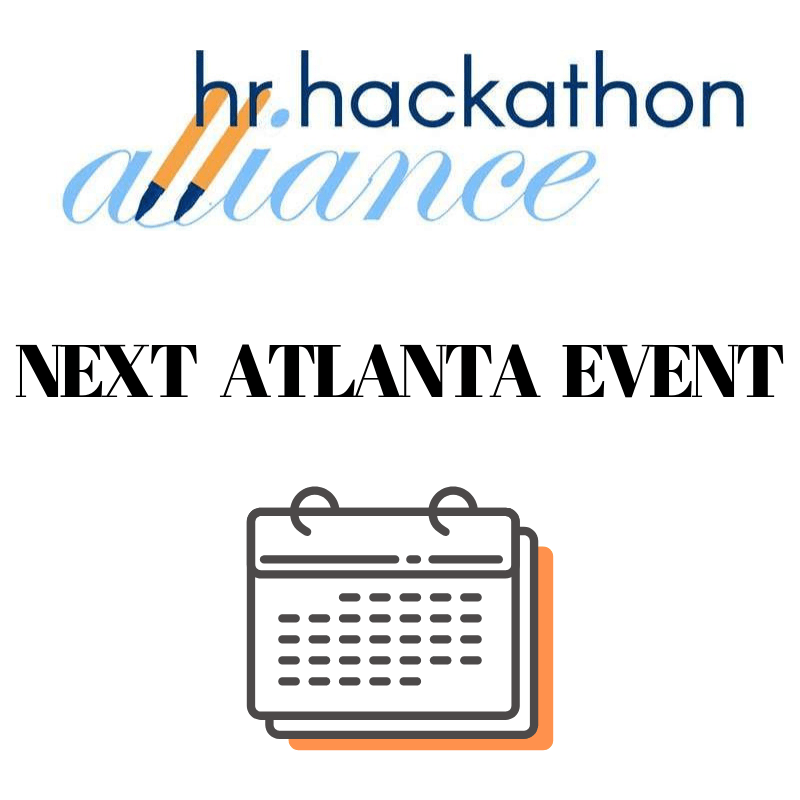 Upcoming hr.hackathon-Atlanta design sprint:
DATE:  Tuesday, October 20, 2020
TIME:  9:30 am – 11:30 am
LOCATION:
Online
TICKETS:
HR & Business Practitioners – $40
Vendors/Service Providers – $50
About This Event
Overview
Atlanta is a symbol of a city with grit and creativity. Our city is ripe for HR innovators to take charge. Join us for the next Atlanta hr.hackathon!
The Event
The hr.hackathon is a 2-hour workshop that provides a forum for HR innovators to collaborate with peers by tackling a specific HR challenge for a real company or organization. hr.hackathon events have already inspired more than 2000 HR and business professionals across the country. Now we are looking to exceed that number in Atlanta!
How It Works:
Local companies/organizations are invited to submit a human capital challenge for us to "hack."  After a brief evaluation process, one lucky organization is selected to have their challenge hacked at the next hr.hackathon-Atlanta.  Our staff works with the selected organization to prepare to be featured at the hr.hackathon event.    
Keep in mind, you too will have the opportunity to submit your HR business challenge(s) for consideration for future events!
At the event, facilitated by local design thinkers Karan Ferrell-Rhodes and Vicki Wright Hamilton, we will gain more insight on the selected topic via a panel of speakers from a variety of organizations and backgrounds. We will then roll up our sleeves and start ideating solutions. And yes, we will have a ton of fun while we do this!
The ticket price includes breakfast, incredible content, and awesome networking opportunities interspersed throughout the event. The ticket price does not cover parking, if required (many of our venue hosts provide free or deeply discounted parking).
The Agenda (For in-person events)
8:30 – 9:00 am: Doors Open, Registration, Networking and Breakfast
9:00 – 9:30 am: Welcome, Quick Overview of Design-Thinking, and Presentation of Challenge
9:30 – 10:00 am: Insights Panel Q&A
10:00 – 10:45 am: Table Break-Out Ideation
10:45 – 11:10 am: Table Groups Present Their Idea Posters
11:10 – 11:20 am: Reflection, Next Steps, Closing
11:20 – 11:30 am: Optional – Additional time to network
Thank you in advance for being a supporter of the Atlanta hr.hackathon initiative – it's an important one, and it's more powerful now that you're part of it. We look forward to seeing you at our next event!
Note: This event is intended primarily for internal HR and business practitioners.
We have a LIMITED number of vendor tickets available. We kindly ask vendor partners and service providers (consultants, staffing agencies, HR tech providers, freelancers etc.) to purchase a vendor donation ticket.
Help Empower Our Dynamic Community!
HOW YOU CAN HELP
GET SOCIAL:  Use and follow the social media hashtag- #hrhackathonatl 
OTHER INFO:
PLAN AHEAD TO JOIN US
SAVE THE DATE:  The next hr.hackathon after our October event is scheduled for:
Tuesday, February 2, 2021
READY TO SECURE YOUR SEAT FOR FEBRUARY 2ND?  The February hr.hackathon design sprint will be at our February location sponsor:
Novelis (3560 Lenox Road, Suite 2000, Atlanta, GA 30326)
We encourage you to go ahead and register for one of the limited seats in order to take advantage of early-bird pricing.
Use the code "EBHack" by January 15, 2021 to get $10 off your registration.
Be sure to add your name to the form on the main page to get details on future hr.hackathon and SDL events, once released.
We promise not to spam you with non-related emails.
#AboutSDL
Shockingly Different Leadership is a human capital professional services consultancy that provides organizations access to the best consulting expertise in the areas of Talent Development, Organizational Development, and Human Resources – on an on-demand, project, or contract basis.
#WhereToFindUs
MAILING
4480-H South Cobb Drive
PMB 219
Smyrna, GA 30080
PHYSICAL
2121 NewMarket Parkway
Ste. 108
Marietta, GA 30067
#ContactOptions
Customer Service Email:
service@shockinglydifferent.com
Call or Text:
770-384-1103
#Office Hours
MON-FRI
8:30 AM – 6:30 PM
Weekends By Appointment