Using a human-centric approach to solve big problems and rapidly prototype new ideas

OVERVIEW
Continuous improvement and innovation is rife with uncertainty and risk.  Fortunately, there is a tool that can help eliminate challenges and accelerate desired outcomes.
A Design Sprint, commonly called a "hackathon", is an exciting, experiential development experience which uses the method of design-thinking to accelerate ideating and vetting potential options to solve a specific challenge.
In these fun, fast-paced, hands-on events, our design thinking experts rapidly lead your team through all six stages of the Design Sprint process.  (Empathize, Define, Ideate, Prototype, Test and Implement)
The focus of Design Sprints is not to create a finished end result, but to speed up learning by rapidly creating and testing ideas.
We offer 3 versions of Design Sprints – 3-hour, 3 day, and 4 1/2-day experiences.
We also offer consultation for comprehensive design-thinking engagements, and host innovation workshops and executive summits just about anywhere.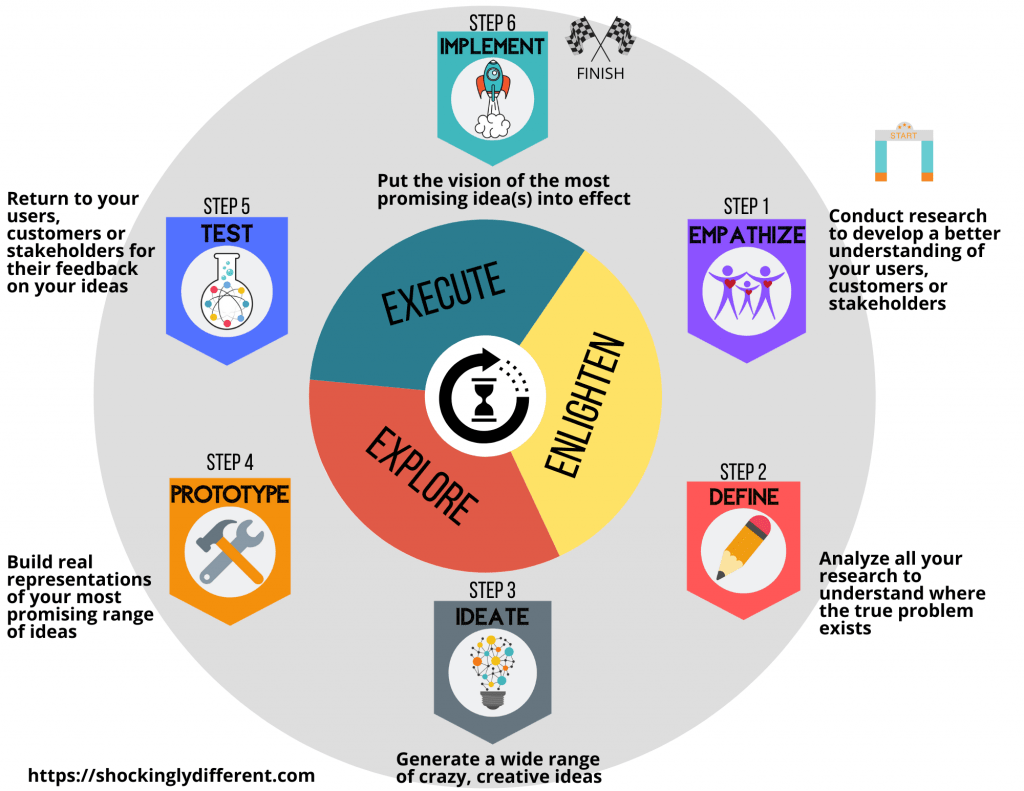 Participants will:
MAP:

Your experience will be kickstarted by you making a plan and getting focused. You will become a detective, as you are guided through activities that help you define key questions, your goal, hear from experts and pick an area of focus.

SKETCH:

You will become a creative artist, as we get your creative juices going, using both brainstorming and the sketching of solutions.

DECIDE:

Next, you will become an analyst, as your team looks at the potential solutions and work together to decide on what to storyboard and prototype.

PROTOTYPE:

Now you and your team will become architects, as you create a rapid prototype, based on your storyboard, so you have something visual and tangible to test with users when asking for feedback.

TEST:

You will then think like a therapist, as you show your prototype to different stakeholders in one-on-one interviews, to gather feedback and get a gut-check on your possible direction.

LAUNCH:

Lastly, we are not going to let your great work go to waste!  We can either jumpstart your strategic planning or consult throughout the entire implementation. Let us support you in becoming dynamic leaders!

Participants will accelerate their creative problem-solving skills while learning:
How to break down a complex problem into a manageable target of focus.
The benefits of a diverse, cross-functional group when tackling a challenge.
The power of learning through quick-and-dirty prototyping versus months of product/service/project development.
The importance of showing your work to key stakeholders early to get actionable feedback; accelerate learn what will/will not work.
The need for collaboration, open-mindedness, divergent thinking and empathy for the end-user.

Design sprints are useful at many different stages of a project or product lifecycle. They are also invaluable leadership development experiences for professionals at all career stages. Some great times to do a sprint:
When kicking off a new initiative
When looking for new breakthrough features for a product or service
When you need to switch gears or iterate on a current project
When you haven't talked to your stakeholders or customers enough
When you have too many paths to explore and there is no clear path forward
How to Book Workshop
Bring this workshop to your organization.  Contact us to discuss dates and pricing.
Payment Options
SDL provides two payment options for your convenience:
Credit Card: You can bill the workshop to a corporate or personal credit card.
Purchase Order/Invoice: SDL will send a bill directly to you or your company. If a purchase order or registration in your company's vendor system is required, please contact us at 770-384-1103.
Public Offering Policies
Transfer, Cancellation and Refund Policy
For open-enrollment Classroom, Live Online, and Webinar programs, participants who can no longer attend may transfer to a future session, send someone to take their place or cancel without penalty at any time up to three weeks prior to the session.
If you provide SDL with less than three weeks notice, or fail to attend, you will be liable for the entire program fee. Privately offered sessions for organizations are bound by the terms of the separately negotiated Statement of Work.
---
Hours and Attire
Q: What time does my workshop begin and end?
A: On the first morning, please arrive at 8:30 am to pick up your registration packet and room assignment. Workshops generally begin at 9:00 am and end at either noon or 4:00 pm.  On the last day, workshops that run the full day begin at 9:00 am and end at 4:30 pm. Workshops that conclude with half day sessions end at 12:00 pm.
Q: What should I wear?
A: Business casual attire is appropriate. Note: room temperatures may vary so you may want to dress in layers.  
Q: Will SDL help me make travel arrangements?
A: SDL partners with leading travel organizations to offer participants special discounts on hotel rooms and car rentals when attending SDL open-enrollment workshops.  We provide these to all participants on this site when public offerings are available. Participants will be required to make and pay for the reservations themselves.
We appreciate that this is an important investment for you and your company and would like to accommodate your needs the best we can. Therefore, please contact us should you have any additional questions.
Get in touch to bring this workshop to your organization
Or be notified of next public offering by completing form below
#AboutSDL
Shockingly Different Leadership is a human capital professional services consultancy that provides organizations access to the best consulting expertise in the areas of Talent Development, Organizational Development, and Human Resources – on an on-demand, project, or contract basis.
#WhereToFindUs
MAILING
4480-H South Cobb Drive
PMB 219
Smyrna, GA 30080
PHYSICAL
2121 NewMarket Parkway
Ste. 108
Marietta, GA 30067
#ContactOptions
Customer Service Email:
service@shockinglydifferent.com
Call or Text:
770-384-1103
#Office Hours
MON-FRI
8:30 AM – 6:30 PM
Weekends By Appointment