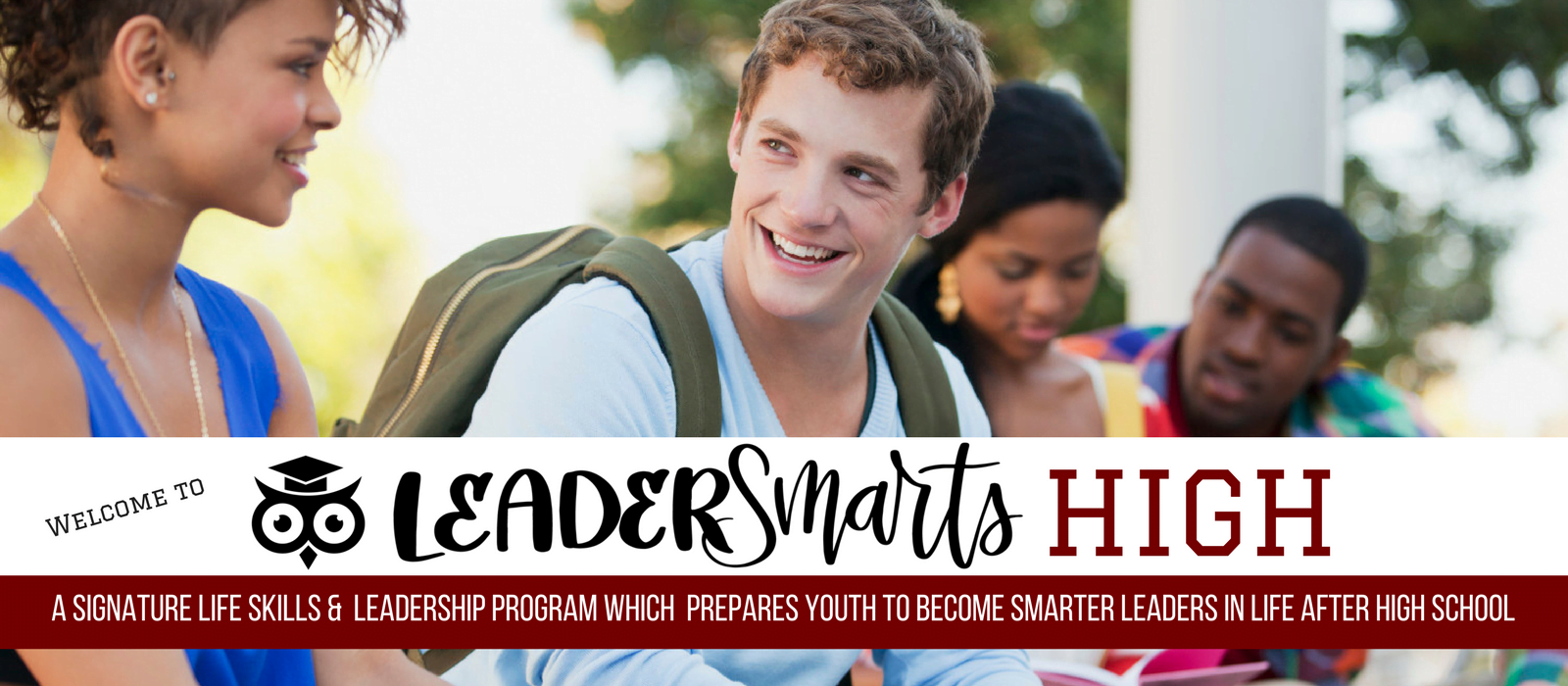 A leadership experience specifically designed to prepare high youth to succeed in career & life
CONGRATULATIONS, PARENTS!
What an exciting time to have a kid in high school!  I know because I just had one graduate myself and spent a ton of money making her last years in high school super-special!
One day they are in diapers and the next day they are heading off to college, work, or the military. Like it or not, your "little" boy or girl is about to leave the nest to begin a new chapter in life. Where have all the years gone?
One thing that might catch you a little off guard, like it did me, is how many additional life and leadership skills they still need to brush up on.  I thought I had been a super-parent who provided everything my student needed.  And I did – while she was under my roof.
But imagine my amazement when my daughter told me that she felt that she was super-prepared for college but totally unprepared for life and to navigate the workforce!  I realized that I had over-functioned as a parent and things I just knew how to do, like buy a house or negotiate a good salary, had not yet been passed on to her. I wondered how many other students like her felt the same way.
And after surveying of over 5000 high school juniors and seniors across the U.S., we found that 86% deeply wished for more life skills and leadership training.  We also found that 82%of parents like you would support their teen's desire to participate in such a program that provides the critical skills that just aren't taught in schools.
As a leadership development consultant who develops the next generation of leaders for corporations, I decided to use my firm's expertise to also design a program which would do the same for high school students – develop the next generation of life & leadership-astute young adults.  And thus, LeaderSmarts High was born.

LeaderSmarts High, designed for teens in grades 9-12, is a 6-week life skills and leadership program for both college-bound students AND those immediately entering the workforce. Students will participate in a combination of trainer-led workshops, self-paced activities, and live online events.
Because keeping up with their main studies is extremely important, participation in LeaderSmarts High is limited to no more than two hours each week.
The LeaderSmarts High curriculum was designed by Shockingly Different Leadership, a renowned global leadership development firm, in partnership with numerous corporate, education, and community partners such as Study.com.
Our program is unique in that it comes with a long-term payoff, because the good decisions your student will make now will follow them for a lifetime.
Upon successful completion of the program, each student will receive both a Certificate of Graduation, as well as a Letter of Recommendation to include in their college application and/or resume packet.

Parents, your high school student is expected to be a fully-prepared, productive citizen the hour after they shake the principal's hand on graduation day.
However, 86% of students don't feel that their education has prepared them for life after graduation and 70% of employers don't feel new graduates have the skills to be "employment ready."
Yet, adulthood is coming soon for our kids, and we all know being a real-life, grown-up is not easy.  We have to make tough decisions everyday based on the best knowledge we have.  Key decisions about topics such as our family household, job, finances, health, elected officials, and charitable organizations keep us up at night.
Both we as parents and the school system do our best to prepare these future leaders of tomorrow.  Yet there are some core critical skills and knowledge of which many students have a lack of exposure by no fault of their own.

We have compiled the best subject matter experts and best practices advice, which will empower your student with the knowledge to ensure they will not be taken advantage of when they leave the safety of the family nest.
Knowledge is power.
Our live, online sessions provide nationwide access to our line-up of mini-workshops, chats with subject matter experts, college decision-makers and corporate leaders – as long as your student has access to the internet.
Students will be able to ask questions to presenters and network with each other via our online interactive classroom platform.
And since we know that sometimes students have extra-curricular activities and family commitments, all classes are recorded for later viewing to ensure they don't miss a thing.
And to make sure you are always informed of your student's progress, you will automatically be added to the LeaderSmarts High Parent Community!

 MAKE SURE YOUR KID DOESN'T THROW AWAY $50,000!
Did you know that every dollar of missed opportunity due to a bad life or career decision equals to a loss of $50K of spending power over your student's lifetime?
Research estimates a whopping $3.7 billion is lost annually due to lack of knowledge and unpreparedness.  Even highly talented and motivated students can't escape this reality.
That's why LeaderSmarts High provides students real-world briefings on the most important life skills and leadership topics which are critical to success in today's rapidly-changing world.
So, go ahead and register your future star via the buttons on the right. 
It's the right thing to do.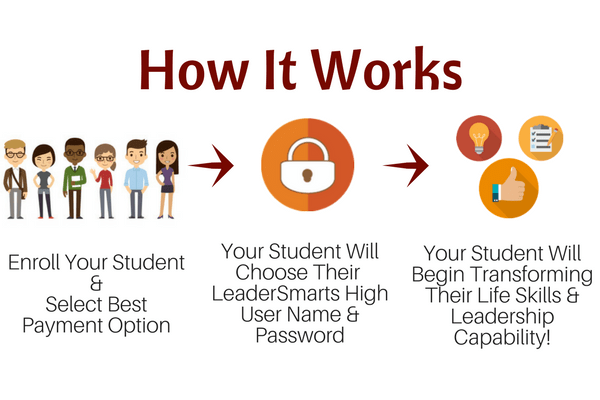 Fast Facts About LeaderSmarts High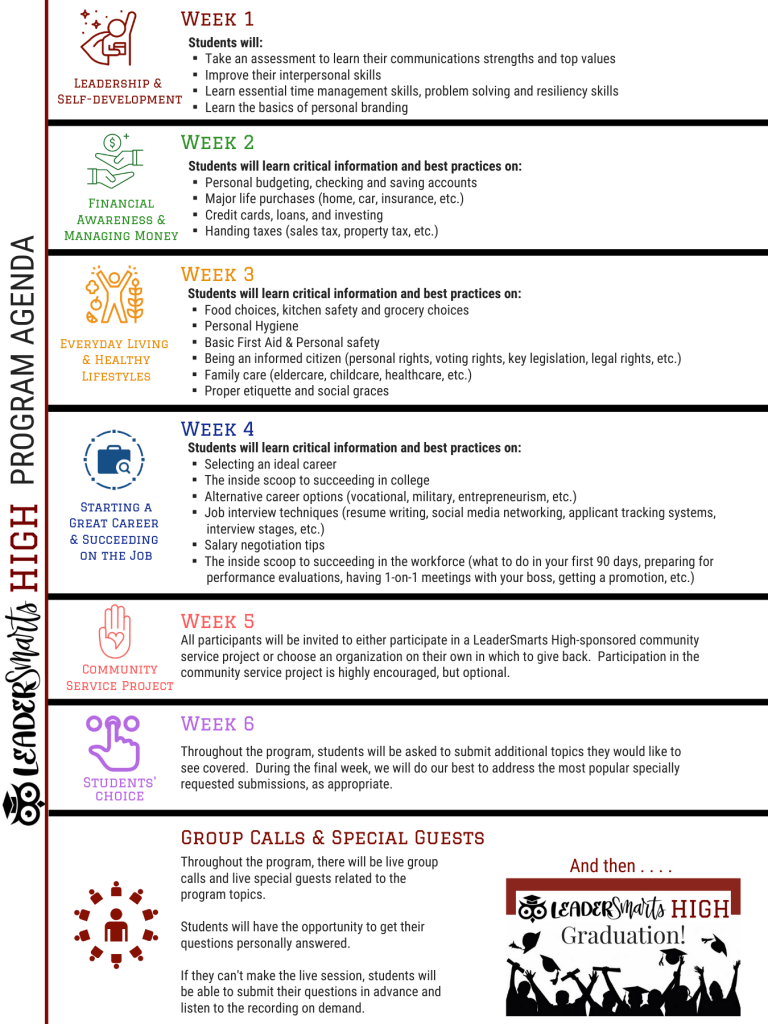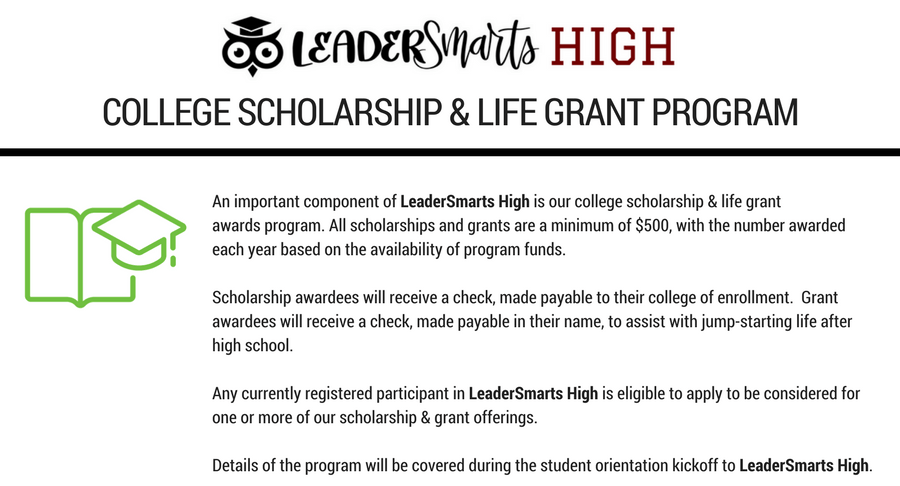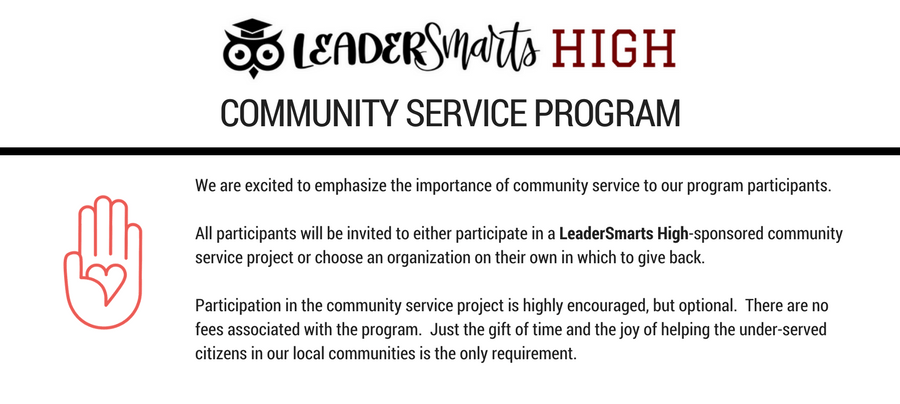 Q.  How long is the program and what is the time commitment?
A.  Students will be asked to participate no more than 2 hours per week during the 6-week program.
Q.  How old should students be to participate in the program?
A.  LeaderSmarts High is designed for teens in grades 9-12.  If your kid is outside this age range, it is up to the both of you to determine if this experience is appropriate.
Q. What are the benefits of online training?
A.  Flexibility- accommodates busy lives by providing web-based sessions that are accessible via home computer or any mobile device.  Convenience- Students can learn either during live sessions or via listening to the recordings.  Cost- Virtual training is more cost effective because it does not require travel, incidental expenses, or a burden on parents.
Q.  What is your cancellation policy?
A.  Due to the upfront costs of the program, we are not able to give refunds.  However, you may transfer your seat to another student or participate in a future offering.  
Q. Will controversial topics be discussed?
A.  No.  We recognize the fact that diverse values and perspectives exist.   We also support that each individual and family has the right to decide how to live their lives.  As such, topics such as politics, race, religion, sex, values, etc. will not be discussed during this program.  The content provided will center on universally known data and will be presented in a way that the student is encouraged to use the data to make their own decisions.
Q. I can't afford the tuition for my kid.  Are there any financial aid resources?
A.  Unfortunately, at this time we do not have financial aid resources.  However, we are currently applying for grants which will subsidize the tuition for future participants.
Great story from Annie Burdick, a recent college graduate, on the need for life skills curriculum during high school.
Interesting blog on essential life skills teens need before graduating or moving out.

Our plans are to launch the next class in 2021.  Fill out form to be notified when the next class will open.
Need Help?
Contact us at support@leadersmarts.com
Please share program with friends and colleagues!
#LeaderSmartsHigh
#LSH2021
Or be notified of next public offering by completing form below
#AboutSDL
Shockingly Different Leadership is a human capital professional services consultancy that provides organizations access to the best consulting expertise in the areas of Talent Development, Organizational Development, and Human Resources – on an on-demand, project, or contract basis.
#WhereToFindUs
MAILING
4480-H South Cobb Drive
PMB 219
Smyrna, GA 30080
PHYSICAL
2121 NewMarket Parkway
Ste. 108
Marietta, GA 30067
#ContactOptions
Customer Service Email:
service@shockinglydifferent.com
Call or Text:
770-384-1103
#Office Hours
MON-FRI
8:30 AM – 6:30 PM
Weekends By Appointment