A podcast about leaders who bring their A+ game in order to do big things!
Thanks in advance, for your interest in being a guest on our podcast.  We encourage you to listen to a few episodes to get a feel for our "fireside chat" kind of style and Karan's personality.
Please review our PODCAST OVERVIEW FOR GUESTS document before submitting your application (see immediately below; clicking on the document will reveal all 3 pages).  We have tried hard to provide you all info needed to determine if our conversation would be a win-win for us both.
NOTE: Appearing on Lead at the Top of Your Game Podcast, and all promotion of your interview, is 100% free. We believe the insights you share are plenty valuable in and of themselves, and therefore do not charge any fees to be on the show. However, we do reserve the right to not publish your interview if we see fit, due to any inflammatory, offensive content.
Click on Overview Below to Review All Pages
Learn What Our Podcast Is About and Meet Karan
Check Out Our Latest Episodes
Typically Released Every Tuesday at 4 AM EST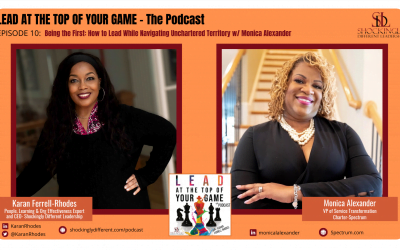 IN THIS EPISODE . . . .  One of the essential accountabilities of exemplary leaders is to forge a...
read more
Other Podcasts Featuring Karan
No Results Found
The page you requested could not be found. Try refining your search, or use the navigation above to locate the post.
#KeepInTouch
via our podcast alerts
Subscribe now to discover why thousands of monthly listeners who are passionate about doing their best work prioritize time each week to listen to the Lead at the Top of Your Game podcast.
#AboutSDL
Shockingly Different Leadership is a human capital professional services consultancy that provides organizations access to the best consulting expertise in the areas of Talent Development, Organizational Development, and Human Resources – on an on-demand, project, or contract basis.
#WhereToFindUs
MAILING
4480-H South Cobb Drive
PMB 219
Smyrna, GA 30080
PHYSICAL
2121 NewMarket Parkway
Ste. 108
Marietta, GA 30067
#ContactOptions
Customer Service Email:
service@shockinglydifferent.com
Call or Text:
770-384-1103
#Office Hours
MON-FRI
8:30 AM – 6:30 PM
Weekends By Appointment