SDL's Founder and CEO, Karan Ferrell-Rhodes, was recently featured on the Work From Your Happy Place podcast, speaking on The Secrets of High-Performing Leaders.
From the show notes:
Leaders are at the heart of every successful team, organization, and business. They are always on a quest to develop themselves and help their teams grow – personally and professionally. The ability to lead, inspire, and create a vision for the future are all qualities that set great leaders apart.
The top 5% of leaders are known for their self-awareness and dedication to continual improvement. They strive to stay ahead of the curve by regularly learning from experts in their field.
These leaders realize that their success is intertwined with their team's success, so they prioritize their team's needs over their own. They provide guidance, encouragement, and resources to empower them to succeed.
Karan Ferrell-Rhodes brings you the secrets of successful leadership in this episode. Drawing on statistical evidence, she outlines the seven key factors to becoming a high-performing leader. Learn how to maximize your productivity, creativity, and well-being through leadership strategies that will help you and your organization reach its full potential.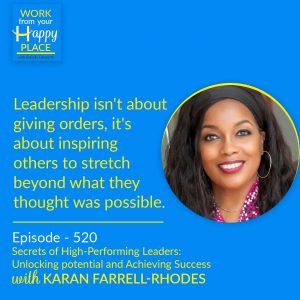 #KeepInTouch via our podcast alerts
Subscribe now to discover why thousands of monthly listeners who are passionate about doing their best work prioritize time each week to listen to the Lead at the Top of Your Game podcast.
#AboutSDL
Shockingly Different Leadership is a human capital professional services consultancy that provides organizations access to the best consulting expertise in the areas of Talent Development, Organizational Development, and Human Resources – on an on-demand, project, or contract basis.
#WhereToFindUs
MAILING
4480-H South Cobb Drive PMB 219 Smyrna, GA 30080
PHYSICAL
2121 NewMarket Parkway Ste. 108 Marietta, GA 30067
#ContactOptions
Customer Service Email: service@shockinglydifferent.com
Call or Text: 770-384-1103
#Office Hours
MON-FRI 8:30 AM – 6:30 PM Weekends By Appointment